Product info
Why Choose nutraMetrix DNA Miracles® Flora Melts*
---
nutraMetrix DNA Miracles® Flora Melts are a delicious dietary supplement for children, delivering probiotic and prebiotic support for digestive and immune health.* They provide a unique group of prebiotic functional starches paired with Lactospore®, a probiotic for optimal digestive and intestinal microflora health in children and adults.
Each serving of Flora Melts features LactoSpore®†, a spore of the probiotic strain Bacillus coagulans, that provides strong immune and intestinal defense while surviving stomach acid and the harsh gastrointestinal environment. In addition, nutraMetrix DNA Miracles® Flora Melts contain one gram of soluble fiber and three different sources of prebiotics – a blend of Jerusalem artichoke, apple fiber and chicory root fiber – to promote optimal health. By offering three powerful, yet different prebiotic fibers, nutraMetrix DNA Miracles® Flora Melts also support healthy metabolism.
Regular supplementation with a probiotic and prebiotic can support optimal gut, metabolic, immune, and overall health. ¥ So create a digestive health routine for you and your child – and make it fun with nutraMetrix DNA Miracles®! Enjoy Flora Melts as they magically dissolve on the tongue, or, simply mix our melt stick with food or beverage.
Healthy bellies make happy little miracles!
± synbiotic – a probiotic(s) and prebiotic(s) combined together
†LactoSpore® is a registered trademark of Sabinsa Corporation.
Primary Benefits of nutraMetrix DNA Miracles® Flora Melts*
---
Supports a healthy microflora balance in the gastrointestinal tract
Supports immune, digestive and intestinal health
Promotes stomach comfort and bowel regularity
Supports healthy metabolism
May support healthy mineral absorption
Delicious, natural fruit flavor
No added sugar
Provides advantageous prebiotic and probiotic source
Provides 1.5 billion CFU from LactoSpore®†
Product Classifications
---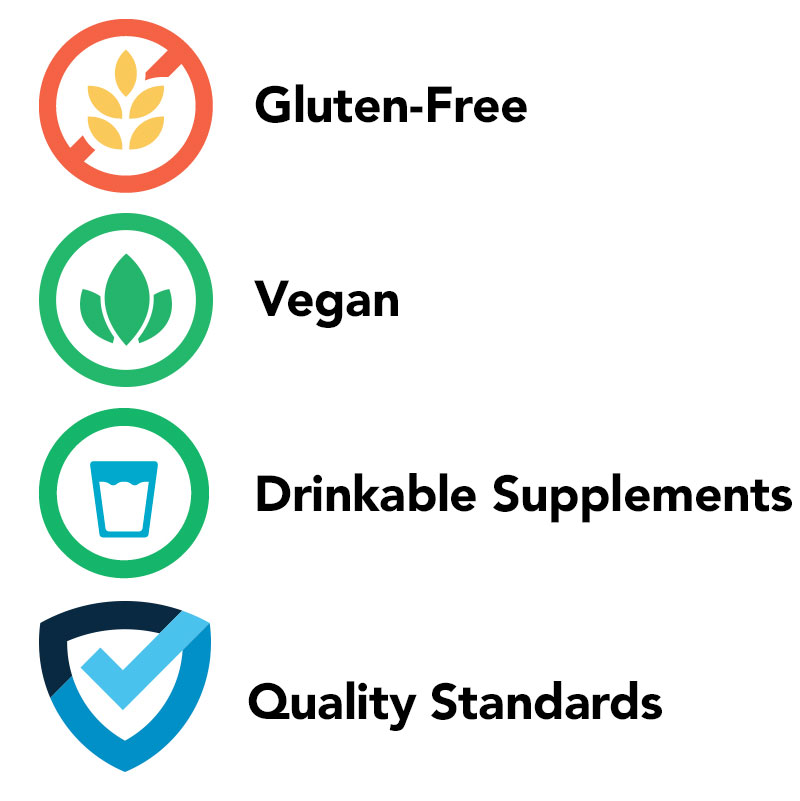 Gluten-Free - The finished product contains no detectable gluten (<10ppm gluten)
Vegan - The product is made without ingredients produced by or derived from animals
Drinkable Supplements - Easy-to-swallow supplements in liquid form are immediately available to the body for absorption
Quality Standards - GMP Operations and Standardized Ingredients
Checked For: Heavy Metals, Microbiological Contaminants, Allergens, Residual Solvents, Potency, Purity and Identity
Key Ingredients Found In nutraMetrix DNA Miracles® Flora Melts*
---
Bacillus coagulans (Lactospore®†): 1.5 billion CFU
Previously known as Lactobacillus sporogenes, Bacillus coagulans produces lactic acid, but it is not a lactic acid bacteria (i.e. lactobacillus). It is also a soil based organism. (SBO) B. coagulans produces reproductive spores, which sets it apart from many other probiotics and has been shown to survive high levels of stomach acid, which means that it arrives to the small intestine as live bacteria so that it may provide optimal health benefits. Research has shown B. coagulans promotes digestive and gastrointestinal health, mineral absorption and healthy microflora balance.
One mechanism behind the spectrum of health benefits from LactoSpore® is based on its natural byproducts of metabolism. These metabolites create a postbiotic benefit in the intestine. These postbiotic metabolites not only extend the benefits of the probiotic, they additionally provide an optimal energy source for healthy new epithelial cells, which line the intestine and support a healthy barrier. This benefit may offer a greater capacity to balance bacteria in the bowel.
†LactoSpore® is a registered trademark of Sabinsa Corporation.
Prebiotic Blend (Jerusalem Artichoke, Apple Fiber, Chicory Root Fiber): 1,200 mg
The prebiotic blend in nutraMetrix DNA Miracles® Flora Melts contains three components. It also contains inulin, which is a soluble, fermentable dietary fiber. Inulin is widely known for its digestive system health benefits, such as: supporting the growth of bifidobacteria (good bacteria in the gastrointestinal tract), supporting a healthy microflora balance in the gastrointestinal tract, helping support healthy mineral absorption, and promoting overall health in the gut microbiome.1 Inulin is not digestible, meaning digestive enzymes cannot break it down after consumption as it moves through the large intestine providing nourishment for gut bacteria. Jerusalem artichoke, apple fiber and chicory root fiber are also good sources of fructooligosaccharides (FOS), a beneficial type of short-chain carbohydrate with prebiotic mechanisms that support gastrointestinal health.1 Inulin and FOS are both oligosaccharides (complex carbohydrates). Inulin is a long-chain oligosaccharide extract produced by chicory root, while FOS is an inulin extract or can result from a combination of sucrose and fructose.1
Jerusalem artichoke
In addition to its inulin content, Jerusalem artichoke, or sunchoke, promotes healthy functioning of the digestive process and supports healthy metabolism.
Apple fiber
Apples are one of the most widely consumed fruits with a wealth of scientifically substantiated health benefits. In addition to containing high amounts of polyphenols – plant micronutrients– apples contain fiber. Together, apple polyphenols and fiber may help regulate gut microbiota composition and activity.2,3 Apples contain pectin – the main soluble fiber in apples and helps promote good bacteria by increasing butyrate levels.2,3 Butyrate is a short-chain fatty acid produced by probiotics when fiber is consumed that has shown to benefit gut health. Pectin is also fermentable fiber.4
Chicory Root Fiber
Inulin is a long-chain oligosaccharide derived from chicory root. Almost half of chicory root fiber comes from inulin, its main source of stored energy.5 Numerous studies have shown chicory root fiber as a prebiotic may be beneficial to health, including supporting healthy bacteria balance in the gut, promoting digestive health and regularity, calcium absorption, and more.6 Chicory root also contains polyphenols.5*
Frequently Asked Questions*
---
What are prebiotics and probiotics? Why are they important for children?
Prebiotics nourish and support the growth and activity of healthy bacteria in the gastrointestinal tract – also known as the gut. They are different from probiotics, which are cultures of live bacteria that are widely believed to provide numerous benefits for human health.* Probiotics have shown to help maintain a healthy balance of microflora (bacteria) in the gut, promote important metabolic functions, and support a healthy immune system.* Postbiotics are the natural byproducts or metabolites of certain probiotic strains that support a healthy gut barrier by preferentially being used by intestinal cells for energy.
Why should I be concerned about gut health for my child?
Many experts believe that the diversity of the bacteria lining the gut plays an important role in a child immune. There is also evidence that there is a link between gut health and overall health.
What factors can affect gut health for children?

Food and diet: A diet high in processed foods, high in sugar and high in trans-fats can contribute to poor gastrointestinal health.1,2
Stress: Adapting to changes like starting daycare or kindergarten, new family dynamics, busy schedules may cause children to feel overwhelmed.3
Is Lactospore a soil based organism (SBO)?
Yes. One of the benefits of the nutraMetrix DNA Miracles® Flora Melts is the use of spore-forming organisms often referred to as soil based organisms (SBO). Because children (and adults) often consume processed foods, SBO's support intestinal balance that may be challenged by our diets.
Who should take nutraMetrix DNA Miracles® Flora Melts?
nutraMetrix DNA Miracles® Flora Melts are best suited for children ages 4 and older with adult supervision. For younger children, we recommend nutraMetrix DNA Miracles® Probiotics Extra, designed specifically for infants.
Can adults take nutraMetrix DNA Miracles® Flora Melts?
Yes. We also recommended trying nutraMetrix Isotonix® Digestive Enzymes with Probiotics or nutraMetrix Probiotics-10 for adults looking for digestive health supplements containing probiotics.
How can my child consume nutraMetrix DNA Miracles® Flora Melts?
To mix it: Sprinkle the contents of one 2.114g packet into food (e.g. applesauce, yogurt, oatmeal, etc.), or into 120 ml (4 oz.) of water or preferred beverage. Stir until dissolved. Consume within 8 – 12 hours.
To melt it: With adult supervision, slowly sprinkle the contents of one packet onto tongue. Close mouth and allow to dissolve.
For optimal results, use daily.
Can my child take the entire packet at one time without mixing into anything?
Yes, over a period of time suitable to allow the product to completely dissolve. There is 2.114g of nutraMetrix DNA Miracles® Flora Melts powder in each serving. We recommend the contents are sprinkled slowly in small increments onto the tongue to allow the powder to dissolve entirely. If the contents of the pack are consumed too quickly the product may not dissolve fast enough.
What is the serving size of nutraMetrix DNA Miracles® Flora Melts?

Consume one 2.114g packet daily, or as directed by your healthcare professional.
Can my child take more than once daily?
Please consult with your healthcare provider to determine if your child should take more than on packet per day.
Can my child take this product along with other nutraMetrix DNA Miracles® products?
Yes. We developed the nutraMetrix DNA Miracles® line to provide complete metabolic, neurologic and digestive support for children. In our modern society, we are exposed to various toxins and chemicals through the foods we eat, pollution in the air and other environmental factors. We cannot completely limit our exposure to all of these, but we can support good gut health through everyday diet and lifestyle. When diet and lifestyle fall short, supplementation is a viable option to promote the overall health of children and adults.
Are there any contraindications or warnings for this product?

Children under four (4) years of age should not take this product as a melt due to choking hazards.
If you have an ongoing medical condition, or are taking any other prescription medications, consult your healthcare provider before taking this product.
If you are allergic to any of the ingredients listed, do not use this product.
What else can I do to support my child's digestion and immune health?
Add more fruit and vegetables to their diet as these are really good sources of soluble fiber. Other high fiber foods include beans, chickpeas and lentils, wholegrain breads, brown or wholegrain rice, nuts and seeds. Fermented foods, such as kefir, also provide gut-friendly benefits.
Scientific Studies For nutraMetrix® DNA Miracles® Flora Melts*
---
• Brownawell, A. et al. Prebiotics and the Health Benefits of Fiber: Current Regulatory Status, Future Research, and Goals. The Journal of Nutrition, 142(5): 962-974. 2012.doi:10.3945/jn.112.158147
• Coleman Collins, S. Entering the World of Prebiotics — Are They a Precursor to Good Gut Health? Today's Dietitian, 16(12): 12. 2014.
• Dewulf, E.M. et al. Insight into the prebiotic concept: lessons from an exploratory, double blind intervention study with inulin-type fructans in obese women. Gut, 62(8): 1112-21. 2013. doi: 10.1136/gutjnl-2012-303304
• Elaheh, M. et al. Prebiotic effect of Jerusalem artichoke (Helianthus tuberosus) fructans on the growth performance of Bifidobacterium bifidum and Escherichia coli. Asian Pacific Journal of Tropical Disease, 6(5): 385-389. 2016. doi:10.1016/S2222-1808(15)61053-2
• Geirnaert, A. et al. Butyrate-producing bacteria supplemented in vitro to Crohn's disease patient microbiota increased butyrate production and enhanced intestinal epithelial barrier integrity. Scientific Reports, 7: 11450. 2017
• Gibson, G. et al. Dietary modulation of the human colonic microbiota: updating the concept of prebiotics. Nutrition Research Reviews, 17(2): 259-275. 2004. doi: 10.1079/NRR200479
• Goncalves P, et al. A Cross-Talk Between Microbiota-Derived Short-Chain Fatty Acids and the Host Mucosal Immune system regulates Intestinal Homeostasis and Inflammatory Bowel Disease. Inflamm Bowel Dis. 2018 Feb 15;24(3):558-572.
• Harmsen, J.M et al. The Effect of the Prebiotic Inulin and the Probiotic Bifidobacterium longum on the Fecal Microflora of Healthy Volunteers Measured by FISH and DGGE. Microbial Ecology in Health and Disease, 14(4): 212-220. 2009. doi:10.1080/08910600310002091
• Jiang, T. Apple-Derived Pectin Modulates Gut Microbiota, Improves Gut Barrier Function, and Attenuates Metabolic Endotoxemia in Rats with Diet-Induced Obesity. Nutrients, 8(3): 126. 2016. doi: 10.3390/nu8030126
• Koutsos, A. et al. Apples and Cardiovascular Health—Is the Gut Microbiota a Core Consideration? Nutrients, 7(6): 3959–3998. 2015. doi: 10.3390/nu7063959
• Meyer, D. and Stasse-Wolthius, M. The bifidogenic effect of inulin and oligofructose and its consequences for gut health. Eur J Clin Nutr. 63(11):1277-89. 2009. doi: 10.1038/ejcn.2009.64
• Niness, K.R. Inulin and oligofructose: what are they? J Nutr.: 129(7 Suppl):1402S-6S. doi: 10.1093/jn/129.7.1402S.
• Nishimura, M. et al. Effects of the extract from roasted chicory (Cichorium intybus L.) root containing inulin-type fructans on blood glucose, lipid metabolism, and fecal properties J Tradit Complement Med. 2015 Jul; 5(3): 161–167. doi: 10.1016/j.jtcme.2014.11.016
• Nwafor, I.C. et al. Chemical Composition and Nutritive Benefits of Chicory (Cichorium intybus) as an Ideal Complementary and/or Alternative Livestock Feed Supplement. ScientificWorldJournal. 2017. doi: 10.1155/2017/7343928
• Pandey, K., Naik, S and Vakil, B. Probiotics, prebiotics and synbiotics- a review. J Food Sci Technol. 52(12): 7577–7587. 2015. doi: 10.1007/s13197-015-1921-1
• Patel RM and Denning PW. Therapeutic Use of Prebiotics, Probiotics, and Postbiotics to Prevent Necrotizing Enterocolitis: What is the Current Evidence? Clin Perinatol. 2013 Mar;40(1):11-25.
• Ramnani, P. et al. Prebiotic effect of fruit and vegetable shots containing Jerusalem artichoke inulin: a human intervention study. British Journal of Nutrition, 104(2): 233-240. 2010. https://doi.org/10.1017/S000711451000036X
• Sabater-Molina, M. et al. Dietary fructooligosaccharides and potential benefits on health. J Physiol Biochem, 65: 315. (2009). https://doi.org/10.1007/BF03180584
• Samal, L. et al. Prebiotic potential of Jerusalem artichoke (Helianthus tuberosus L.) in Wistar rats: effects of levels of supplementation on hindgut fermentation, intestinal morphology, blood metabolites and immune response. J. Sci Food Agric, 95(8):1689-96. 2015. doi: 10.1002/jsfa.6873
• Sanders, ME, et al. Probiotics and prebiotics: prospects for public health and nutritional recommendations. Ann N Y Acad Sci., 1309: 19-29. (2014), doi: 10.1111/nyas.12377.
• Scholz-Ahrens, K. et al. Effects of prebiotics on mineral metabolism. Am J Clin Nutr. 73(2 Suppl):459S-464S. 2001. doi: 10.1093/ajcn/73.2.459s.
• Scholz-Ahrens, K. et al. Prebiotics, Probiotics, and Synbiotics Affect Mineral Absorption, Bone Mineral Content, and Bone Structure. The Journal of Nutrition, 137(3): 838S–846S. 2007. doi:10.1093/jn/137.3.838S
• Slavin, J. Fiber and Prebiotics: Mechanisms and Health Benefits. Nutrients, 5(5): 1417-1435. doi: 10.3390/nu5041417
• Thomas, D. W. et al. Clinical Report: Probiotics and Prebiotics in Pediatrics. Pediatrics, 126(6): 1217-1231. doi:10.1542/peds.2010-2548
• Yuan X, et al. Differential effects of short chain fatty acids on endothelial Nirp3 inflammasome activation and neointima formation: Antioxidant action of butyrate. Redox Biol. 2018 Jun;16:21-31.
Reviews
---
Displaying reviews 1 - 5 of 5
Love the taste and my son loves it too!
So easy to use and tastes great! Son begs for it!
Great tasting and great product!
Love these new flora melts. Makes giving probiotics to our children so much easier because they love the taste. They especially love to sprinkle it on their fresh fruits as well as applesauce!
A great pre + Pro- biotic for Kids
It has a pleasant taste. definitely try it in applesauce. Watch your children will ask for more flora melt. A great problem to have.
Tried myself and gave to teen
I have heard that kids like to sprinkle this on food. I tried sprinkling on my tongue as did my teen and became gooey mess. Did not dissolve and go away. Drinkable was only slightly better. Going with probiotics 10 tablets for teen instead.
Response from Customer Service:
November 4, 2020
Dear Valued Customer,

Thank you for taking the time to share your thoughts on the DNA Miracles® Flora Melts! We are sorry to hear you were not pleased with the product. When pouring the product on your tongue it may not completely dissolve all at once. When taking as a melt you should only add a small amount at a time. Those that do not prefer the taste we would recommend mixing it with applesauce or juice.

Thank you again!
The Product Information Team
One or more of the reviews shown may have been posted by a nutraMetrix or SHOP Consultant (An independent distributor of nutraMetrix and Market America products) or a nutraMetrix HP (A health professional who is an independent distributor of nutraMetrix and Market America products).