Product info
Primary Benefits of nutraMetrix® Heart Health™ Blood Pressure and Vascular Support*:
---
Supports health blood pressure
Helpsmaintain vascular health
Provides antioxidant protection of LDL particles
Promotes healthy blood pressure levels
Helps maintain normal blood flow
Support healthy arterial function
Supports blood vessel integrity
Supports the function of the heart and circulatory system
Potent free radical scavenger
Promotes/Supports healthy nitric oxide levels
Product Classifications
---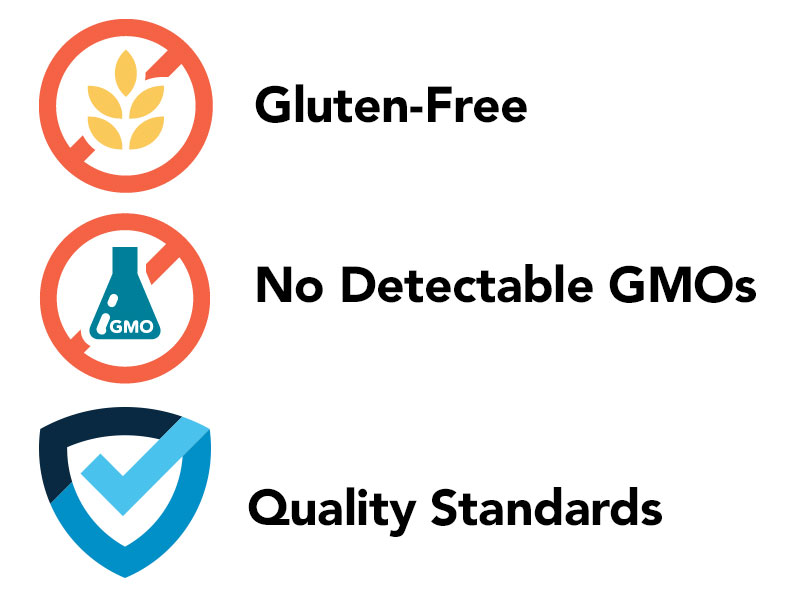 Gluten-Free - The finished product contains no detectable gluten (<10ppm gluten)
No Detectable GMOs - The finished product contains no detectable genetically-modified organisms
Quality Standards - GMP Operations and Standardized Ingredients
Checked For: Heavy Metals, Microbiological Contaminants, Allergens, Residual Solvents, Potency, Purity and Identity
What Makes nutraMetrix® Heart Health™ Blood Pressure and Vascular Support Unique?*
---
nutraMetrix® Heart Health™ Blood Pressure and Vascular Support, a cutting-edge formula for blood pressure and vascular health, is ideal for individuals looking to support healthy blood pressure or maintain blood pressure within a normal range for their age group. Blood pressure can be influenced by several factors and remembering to keep on top of it can easily skip our minds. In addition to watching your weight, getting regular exercise, and eating a healthy diet, this formula can help you obtain extra health benefits by promoting vascular performance during fitness activity, functioning of the heart, and protection against increased levels of oxidative stress and free radicals. Tackle your working day with a powerful combination of grape seed extract and lycopene for healthy blood pressure and cardiovascular vitality.
Maybe you are an executive with stress-related concerns, a tad overweight, wanting to promote cholesterol levels within healthy ranges or looking to be proactive with family history and heart health. Maybe you are looking to support your athletic performance, maintain blood pressure, support the function of the heart and circulatory system, or just interested in a non-Rx blood pressure supplement alternative. nutraMetrix® Heart Health™ Blood Pressure and Vascular Support was designed to aid those in maintaining their blood pressure and acquire all the health benefits that can accompany it. This supplement's unique formula is comprised of grape seed extract (crushed grape seeds derived from grape plants) and lycopene (a natural plant chemical known for its antioxidant-rich properties), which have scientifically demonstrated their ability to promote blood vessel integrity by supporting arterial and circulatory functioning.
Your blood pressure number is a result of the amount of pressure your arteries undergo as blood pumps away from your heart (systolic BP – top number) and the pressure your arteries undergo as blood is pumped back into your heart (diastolic BP – bottom number). Research has revealed that those looking to support their blood pressure within healthy ranges and consumed 300 mg of grape seed extract for eight weeks, exhibited significantly lower systolic and diastolic blood pressure than the placebo group. (35) nutraMetrix® Heart Health™ Blood Pressure and Vascular Support's active ingredients work together to help maintain vascular health such as normal blood flow and healthy vessels (including blood flow to the eyes, kidneys, and brain); which plays a major role in promoting healthy blood pressure levels. Additionally, grape seed extract and lycopene have both shown evidence in supporting normal tumor necrosing factor (TNFa), an important factor that assists your body in overall health, immune function, and longevity. Their overall ability to maintain a healthy antioxidant environment by neutralizing free radicals can provide antioxidant protection against "bad cholesterol" LDL particles and promote a healthy prostate.
As blood pressure increases, the arteries work harder to supply the proper amount of blood and oxygen to your organs and back to your heart. Extended periods with blood pressure outside of healthy ranges can lead to increased risk for cardiovascular decline, especially with advancing years and physical stress. It is paramount that you periodically check and know where your blood pressure stands so you can better understand what steps you can take to work toward keeping it within a normal range for your age group. nutraMetrix® Heart Health™ Blood Pressure and Vascular Support is a simplistic formula offering ingredients that work together to promote healthy blood pressure by supporting cardiovascular, circulatory, and arterial functioning.
Help maintain your vascular health and get back to your day with a formula that can help support the functioning of the heart and circulatory system.
Key Ingredients Found In nutraMetrix® Heart Health™ Blood Pressure and Vascular Support*
---
Grape Seed Extract 300 mg
Grape seed extract is typically extracted from the seeds of red grapes (instead of white), which have a high content of compounds known as oligomeric proanthocyanidins (OPCs). Grape seed extract is extremely rich in polyphenols, compounds with high antioxidant activity. It is these compounds that play a part in the numerous health benefits from grape seed. In addition to being a powerful antioxidant, it has been shown to be a proven ingredient for cardiovascular health by supporting blood vessel dilation, which in turn supports healthy blood flow and healthy blood pressure levels. Studies suggest grape seed extract also works to promote normal circulation. Grape catechins provide antioxidant protection for low-density lipoprotein (LDL) particles, a contributing mechanism for supporting cardiovascular health.
Lycopene 15 mg
Fruits and vegetables, such as tomatoes, pink grapefruit and watermelon receive their red pigmentation from a carotene called Lycopene. Lycopene is one of the carotenes and a member of the carotenoid family. Lycopene offers a wide range of benefits in helping maintain healthy cardiovascular health, prostate health and it is also a powerful antioxidant. Lycopene has been shown to have an important role in maintaining cardiovascular health, including supporting the lining of arterial blood vessels (the endothelium), this in turn allows for healthy blood flow and healthy blood pressure levels. Lycopene has been shown in numerous studies to exert a favorable effect in supporting cardiovascular health.
Frequently Asked Questions*
---
Who should take this product?
Those looking for additional support for healthy blood pressure in adults and athletes, as well as those interested in promoting their arterial and circulatory functioning.
Can I take nutraMetrix® Heart Health™ Blood Pressure and Vascular Support if I already use nutraMetrix® Heart Health™ Products?
Yes, this product can be safely taken with other nutraMetrix® Heart Health™ products, such as nutraMetrix® Heart Health™ System and nutraMetrix Heart Health™ Advanced CoQ10.
Can children take nutraMetrix® Heart Health™ Blood Pressure and Vascular Support?
No, this supplement is recommended for adults over 18 years of age.
What is the recommended daily serving?
The recommended serving is 1 capsule per day with or without food.
Are there any warnings I should be aware of prior to taking this supplement?
If you are currently using warfarin (Coumadin) or other blood-thinning/antiplatelet/anticoagulant medications, it is highly recommended that you consult with your healthcare provider before using this product. Individuals who are currently taking prescription drugs, have an ongoing medical condition, or who are pregnant/breastfeeding should also check with their healthcare providers prior to adding this supplement to their daily routine.
Does nutraMetrix® Heart Health™ Blood Pressure and Vascular Support contain grapefruit and therefore interfere with my medications?
No, Grape Seed Extract is distinct from grapefruit pulp or seeds. However, if you are currently taking prescription drugs, have an ongoing medical condition, or who are pregnant/breastfeeding should also check with their healthcare providers prior to adding this supplement to their daily routine.
Is this supplement suitable for vegetarians and vegans?
No, this product contains gelatin containing animal byproducts.
Is this product allergen free?
nutraMetrix® Heart Health™ Blood Pressure and Vascular Support is free of all the major allergens identified in the Food Allergen Labeling and Consumer Protection Act of 2004. This includes the absence of the following allergens: egg, milk, peanut, tree nuts, crustacean shellfish, fish, soy, wheat, and gluten.
What other products may go well with this formula?
Other products that may pair well with this formula are nutraMetrix® Heart Health™ System, nutraMetrix Isotonix OCP-3®, nutraMetrix® Heart Health™ Advanced Co-Q10, nutraMetrix Isotonix® Activated B-Complex, nutraMetrix Isotonix® Magnesium, nutraMetrix Isotonix® Vitamin D with K2, nutraMetrix Isotonix® Astaxanthin, nutraMetrix® Prime™ Astaxanthin Cardio and Visual Vitality Formula, and nutraMetrix Isotonix® Sexual Health.
What are some other potential benefits I may notice from taking this product?
nutraMetrix® Heart Health™ Blood Pressure and Vascular Support may help maintain blood pressure levels and can result in enhanced blood circulation and blood vessels integrity. Thus, a study has found to suggest that is may even be a potential aid to help those with ED in connection to diabetes.
Scientific Studies Found In nutraMetrix® Heart Health™ Blood Pressure and Vascular Support*
---
Schön C, Allegrini P, Engelhart-Jentzsch K, Riva A, Petrangolini G. Grape Seed Extract Positively Modulates Blood Pressure and Perceived Stress: A Randomized, Double-Blind, Placebo-Controlled Study in Healthy Volunteers. Nutrients. 2021 Feb 17;13(2):654.
Eunyoung Park, Indika Edirisinghe, Ying Yng Choy, Andrew Waterhouse, Britt Burton-Freeman. Effects of grape seed extract beverage on blood pressure and metabolic indices in individuals with pre-hypertension: a randomised, double-blinded, two-arm, parallel, placebo-controlled trial. Br J Nutr. 2016 Jan 28;115(2):226-38.
Kim JK, Kim KA, Choi HM, Park SK, Stebbins CL. Grape Seed Extract Supplementation Attenuates the Blood Pressure Response to Exercise in Prehypertensive Men. J Med Food. 2018 May;21(5):445-453.
Feringa HH, Laskey DA, Dickson JE, Coleman CI. The effect of grape seed extract on cardiovascular risk markers: a meta-analysis of randomized controlled trials. J Am Diet Assoc. 2011 Aug;111(8):1173-81.
Odai T, Terauchi M, Kato K, Hirose A, Miyasaka N. Effects of Grape Seed Proanthocyanidin Extract on Vascular Endothelial Function in Participants with Prehypertension: A Randomized, Double-Blind, Placebo-Controlled Study. Nutrients. 2019 Nov 20;11(12):2844.
Zhang H, Liu S, Li L, Liu S, Liu S, Mi J, Tian G. The impact of grape seed extract treatment on blood pressure changes: A meta-analysis of 16 randomized controlled trials. Medicine (Baltimore). 2016 Aug;95(33):e4247.
Belcaro G, Ledda A, Hu S, Cesarone MR, Feragalli B, Dugall M. Grape seed procyanidins in pre- and mild hypertension: a registry study. Evid Based Complement Alternat Med. 2013;2013:313142
Talia Wolak et al. Effect of Tomato Nutrient Complex on Blood Pressure: A Double Blind, Randomized Dose–Response Study. Nutrients 2019, 11(5), 950
Ioana Mozos, Dana Stoian, et al. Lycopene and Vascular Health. Front Pharmacol. 2018;9:521.
Ried K, Fakler P (2011) Protective effect of lycopene on serum cholesterol and blood pressure: Meta-analyses of intervention trials. Maturitas 68: 299–310.
Parag R. Gajendragadkar,Annette Hubsch,Kaisa M. Mäki-Petäjä,Martin Serg,Ian B. Wilkinson,Joseph Cheriyan. Effects of Oral Lycopene Supplementation on Vascular Function in Patients with Cardiovascular Disease and Healthy Volunteers: A Randomised Controlled Trial. PLoS One. 2014;9(6):e99070.
J Costa-Rodrigues, O Pinho, PRR Monteiro. Can lycopene be considered an effective protection against cardiovascular disease? Food Chemistry. 2018;245:1148-1153.
Xinli Li and Jiuhong Xu Lycopene Supplement and Blood Pressure: An Updated Meta-Analysis of Intervention Trials. Nutrients 2013, 5(9), 3696-3712.
Cheng HM, Koutsidis G, Lodge JK, Ashor A, Siervo M, Lara J. Tomato and lycopene supplementation and cardiovascular risk factors: A systematic review and meta-analysis. Atherosclerosis. 2017 Feb;257:100-108.
Wipharak Rattanavipanon et al. Effect of tomato, lycopene and related products on blood pressure: A systematic review and network meta-analysis. Phytomedicine. 2021 Feb 16;153512.
Ghaedi E , Moradi S , Aslani Z , Kord-Varkaneh H , Miraghajani M , Mohammadi H . Effects of grape products on blood lipids: a systematic review and dose-response meta-analysis of randomized controlled trials. Food Funct. 2019;10(10):6399-6416.
Meyer AS, Yi OS, Pearson DA, et al. Inhibition of human low-density lipoprotein oxidation in relation to composition of phenolic antioxidants in grapes (Vitis vinifera). J Agric Food Chem 1997;45:1638-43.
Kamiyama, M., Kishimoto, Y., Tani, M., Andoh, K., Utsunomiya, K., and Kondo, K. Inhibition of low-density lipoprotein oxidation by Nagano purple grape (Vitis viniferaxVitis labrusca). J Nutr.Sci.Vitaminol.(Tokyo) 2009;55(6):471-478.
Stein JH, Keevil JG, Wiebe DA, et al. Purple grape juice improves endothelial function and reduces the susceptibility of LDL cholesterol to oxidation in patients with coronary artery disease. Circulation 1999;100:1050-5.
Di Mascio P, Kaiser S, Sies H (1989) Lycopene as the most efficient biological carotenoid singlet oxygen quencher. Arch Biochem Biophys 274: 532–538.
Agarwal S, Rao AV (1998) Tomato lycopene and low density lipoprotein oxidation: a human dietary intervention study. Lipids 33: 981–984.
Gianetti, J., Pedrinelli, R., Petrucci, R., Lazzerini, G., De Caterina, M., Bellomo, G., and De Caterina, R. Inverse association between carotid intima-media thickness and the antioxidant lycopene in atherosclerosis. Am Heart J 2002;143(3):467-474.
Ghosh D, Scheepens A. Vascular action of polyphenols. Mol Nutr Food Res. 2009 Mar;53(3):322-31.
Fitzpatrick DF, Bing B, Maggi DA, Fleming RC, O'Malley RM. Vasodilating procyanidins derived from grape seeds. Ann N Y Acad Sci. 2002 May;957:78-89.
Freedman JE, Parker C, Li L, et al. Select flavonoids and whole juice from purple grapes inhibit platelet function and enhance nitric oxide release. Circulation 2001;103:2792-8.
Nuttall SL, Kendall MJ, Bombardelli E, Morazzoni P. An evaluation of the antioxidant activity of a standardized grape seed extract, Leucoselect. J Clin Pharm Ther 1998;23:385-89.
Shi, J., et al. Polyphenolics in grape seeds-biochemistry and functionality. J Med Food 6:291-9, 2003. Review.
Rohdewald, P. Pycnogenol®. In "Flavonoids in Health and Disease". Ed. Catherine Rice-Evans and Lester Packer. New York: Marcel Dekker, Inc., 1998. 405-19.
Müller L, Caris-Veyrat C, Lowe G, Böhm V. Lycopene and Its Antioxidant Role in the Prevention of Cardiovascular Diseases-A Critical Review. Crit Rev Food Sci Nutr. 2016 Aug 17;56(11):1868-79.
Nassiri-Asl M, Hosseinzadeh H. Review of the Pharmacological Effects of Vitis vinifera (Grape) and its Bioactive Constituents: An Update. Phytother Res. 2016 Sep;30(9):1392-403.
Bondonno CP, Croft KD, Ward N, Considine MJ, Hodgson JM. Dietary flavonoids and nitrate: effects on nitric oxide and vascular function. Nutr Rev. 2015 Apr;73(4):216-35.
Feng Z, Wei RB, Hong Q, Cui SY, Chen XM. Grape seed extract enhances eNOS expression and NO production through regulating calcium-mediated AKT phosphorylation in H2O2-treated endothelium. Cell Biol Int. 2010 Oct;34(10):1055-61.
Kim OY, Yoe HY, Kim HJ, Park JY, Kim JY, et al. (2010) Independent inverse relationship between serum lycopene concentration and arterial stiffness. Atherosclerosis 208: 581–586.
American Heart Association. (n.d.). Know Your Risk Factors for High Blood Pressure. www.Heart.Org. https://www.heart.org/en/health-topics/high-blood-pressure/why-high-blood-pressure-is-a-silent-killer/know-your-risk-factors-for-high-blood-pressure
Robinson, M. & Lu, B. & Edirisinghe, Indika & Kappagoda, C.T.. (2012). Effect of grape seed extract on blood pressure in subjects with pre-hypertension. Journal of Pharmacy and Nutrition Sciences. 2. 155-159. 10.6000/1927-5951.2012.02.02.6
Bagchi D, Bagchi M, Stohs SJ, Das DK, Ray SD, Kuszynski CA, Joshi SS, Pruess HG. Free radicals and grape seed proanthocyanidin extract: importance in human health and disease prevention. Toxicology. 2000 Aug 7;148(2-3):187-97. doi: 10.1016/s0300-483x(00)00210-9. PMID: 10962138.
Gholami, F., Antonio, J., Evans, C. et al. Tomato powder is more effective than lycopene to alleviate exercise-induced lipid peroxidation in well-trained male athletes: randomized, double-blinded cross-over study. J Int Soc Sports Nutr 18, 17 (2021). https://doi.org/10.1186/s12970-021-00415-7
Belviranlı M, Gökbel H, Okudan N, Başaralı K. Effects of grape seed extract supplementation on exercise-induced oxidative stress in rats. Br J Nutr. 2012 Jul;108(2):249-56. doi: 10.1017/S0007114511005496. Epub 2011 Oct 20. PMID: 22011589.
Jooyoung, K., & So, W.-Y. (2019, May 20). Effects of acute grape seed extract supplementation on muscle damage after eccentric exercise: A randomized, controlled clinical trial. ScienceDirect.
Kakutani, Y., Aikawa, Y., Ezawa, I.et al. The effects of lycopene intake and exercise on bone health in young female rats. J Int Soc Sports Nutr 8, P30 (2011). https://doi.org/10.1186/1550-2783-8-S1-P30
Wertz K, Siler U, Goralczyk R. Lycopene: modes of action to promote prostate health. Arch Biochem Biophys. 2004 Oct 1;430(1):127-34. doi: 10.1016/j.abb.2004.04.023. PMID: 15325920.
Wertz K. Lycopene effects contributing to prostate health. Nutr Cancer. 2009;61(6):775-83. doi: 10.1080/01635580903285023. PMID: 20155615.
Ute C. Obermüller-Jevic, Estibaliz Olano-Martin, Ana M. Corbacho, Jason P. Eiserich, Albert van der Vliet, Giuseppe Valacchi, Carroll E. Cross, Lester Packer, Lycopene Inhibits the Growth of Normal Human Prostate Epithelial Cells in Vitro,The Journal of Nutrition, Volume 133, Issue 11, November 2003, Pages 3356–3360, https://doi.org/10.1093/jn/133.11.3356
Kaur M, Velmurugan B, Rajamanickam S, Agarwal R, Agarwal C. Gallic acid, an active constituent of grape seed extract, exhibits anti-proliferative, pro-apoptotic and anti-tumorigenic effects against prostate carcinoma xenograft growth in nude mice. Pharm Res. 2009 Sep;26(9):2133-40. doi: 10.1007/s11095-009-9926-y. Epub 2009 Jun 20. PMID: 19543955; PMCID: PMC2741017.
Gao JX, Li Y, Zhang HY, He XL, Bai AS. Lycopene ameliorates erectile dysfunction in streptozotocin-induced diabetic rats. Pharmazie. 2012 Mar;67(3):256-9. PMID: 22530309.
Chao CL, Chang NC, Weng CS, Lee KR, Kao ST, Hsu JC, Ho FM. Grape seed extract ameliorates tumor necrosis factor-α-induced inflammatory status of human umbilical vein endothelial cells. Eur J Nutr. 2011 Sep;50(6):401-9. doi: 10.1007/s00394-010-0151-6. Epub 2010 Nov 28. PMID: 21113812.
Hamza, A.A., Heeba, G.H., Elwy, H.M. et al.Molecular characterization of the grape seeds extract's effect against chemically induced liver cancer: In vivo and in vitro Sci Rep 8,1270 (2018). https://doi.org/10.1038/s41598-018-19492-x
Marcotorchino J, Romier B, Gouranton E, Riollet C, Gleize B, Malezet-Desmoulins C, Landrier JF. Lycopene attenuates LPS-induced TNF-α secretion in macrophages and inflammatory markers in adipocytes exposed to macrophage-conditioned media. Mol Nutr Food Res. 2012 May;56(5):725-32. doi: 10.1002/mnfr.201100623. PMID: 22648619.
Sochorova L, Baron M, Dadakova K, Kasparovsky T, Sochor J. Health Beneficial Properties of Grapevine Seed Extract and Its Influence on Selected Biochemical Markers in the Blood, Liver and Kidneys of Rattus norvegicus. Molecules. 2021 Apr 6;26(7):2099. doi: 10.3390/molecules26072099. PMID: 33917585; PMCID: PMC8038788.
Yamaguchi F, Yoshimura Y, Nakazawa H, Ariga T. Free radical scavenging activity of grape seed extract and antioxidants by electron spin resonance spectrometry in an H(2)O(2)/NaOH/DMSO system. J Agric Food Chem. 1999 Jul;47(7):2544-8. doi: 10.1021/jf9806762. PMID: 10552524.
Claudine Manach, Augustin Scalbert, Christine Morand, Christian Rémésy, Liliana Jiménez, Polyphenols: food sources and bioavailability, The American Journal of Clinical Nutrition, Volume 79, Issue 5, May 2004, Pages 727–747, https://doi.org/10.1093/ajcn/79.5.727
Grohmann T, Litts C, Horgan G, et al. Efficacy of Bilberry and Grape Seed Extract Supplement Interventions to Improve Glucose and Cholesterol Metabolism and Blood Pressure in Different Populations-A Systematic Review of the Literature. Nutrients. 2021;13(5):1692. Published 2021 May 17. doi:10.3390/nu13051692
Habauzit V, Morand C. Evidence for a protective effect of polyphenols-containing foods on cardiovascular health: an update for clinicians. Ther Adv Chronic Dis. 2012;3(2):87-106. doi:10.1177/2040622311430006
Janciauskiene S. The Beneficial Effects of Antioxidants in Health And Diseases. Chronic Obstr Pulm Dis. 2020;7(3):182-202. doi:10.15326/jcopdf.7.3.2019.0152
Haghighatdoost F, Gholami A, Hariri M. Effect of grape polyphenols on selected inflammatory mediators: A systematic review and meta-analysis randomized clinical trials. EXCLI J. 2020;19:251-267. Published 2020 Mar 2. doi:10.17179/excli2020-1011
Grosso G, Stepaniak U, Micek A, Stefler D, Bobak M, Pająk A. Dietary polyphenols are inversely associated with metabolic syndrome in Polish adults of the HAPIEE study. Eur J Nutr. 2017;56(4):1409-1420. doi:10.1007/s00394-016-1187-z
Margină D, Ungurianu A, Purdel C, et al. Analysis of the intricate effects of polyunsaturated fatty acids and polyphenols on inflammatory pathways in health and disease. Food Chem Toxicol. 2020;143:111558. doi:10.1016/j.fct.2020.111558
Cheng YC, Sheen JM, Hu WL, Hung YC. Polyphenols and Oxidative Stress in Atherosclerosis-Related Ischemic Heart Disease and Stroke. Oxid Med Cell Longev. 2017;2017:8526438. doi:10.1155/2017/8526438
Lupoli R, Ciciola P, Costabile G, Giacco R, Minno MNDD, Capaldo B. Impact of Grape Products on Lipid ProfileL A Meta-Analysis of Randomized Controlled Studies. J Clin Med. 2020;9(2):313. Published 2020 Jan 22, doi:10.3390/jcm9020313
Burton-Freeman B, Sesso HD. Whole food versus supplement: comparing the clinical evidence of tomato intake and lycopene supplementation on cardiovascular risk factors. Adv Nutr. 2014;5(5):457-485. doi:10.3945/an.114.005231
P. Castilla, R. Echarri, A. Dávalos et al., Blood flow to areas of the body "Concentrated red grape juice exerts antioxidant, hypolipidemic, and antiinflammatory effects in both hemodialysis patients and healthy subjects," American Journal of Clinical Nutrition, vol. 84, no. 1, pp. 252–262, 2006.
Story EN, Kopec RE, Schwartz SJ, Harris GK. An update on the health effects of tomato lycopene. Annu Rev Food Sci Technol. 2010;1:189-210. doi:10.1146/annurev.food.102308.124120
Reviews
---
There are currently no reviews for this product.