Product info
Why Choose The Cardio Shield Bundle*
---
A comprehensive approach to cardiovascular health goes beyond diet and exercise. Your cardiovascular system is an arrangement of cell signals and tissue response which dictates the balance of fatty acids, stress hormones and end-products of metabolism that support endurance, stamina, healthy aging and metabolic conditioning.
THE CARDIO-SHIELD BUNDLE - INCLUDES FIVE PRODUCTS
Quantity of one each:
The Cardio Shield Bundle*
---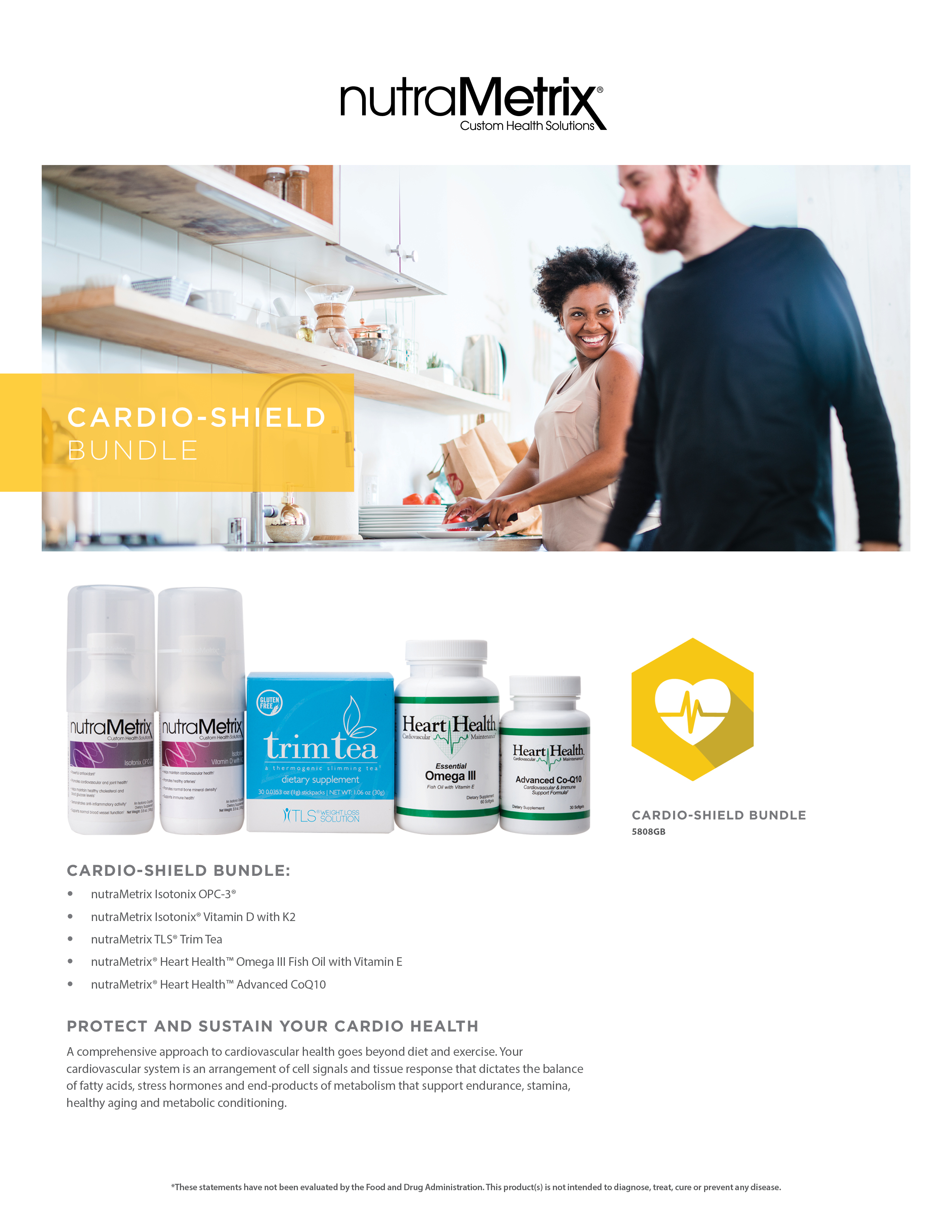 Additional Bundles Offered*
---
Optimizing Your Genetic Environment – 5 Important Considerations
1. There isn't one Superstar Gene – a healthy gene environment is not influenced by just one gene, but how all your genes interact with each other. Knowing your personal gene story will help provide the information needed to create an optimal gene environment.
2. Gene pathways – Your genetic expression may take one of three pathways:

Optimal gene potential – pathways to "turn up" or optimize;
Alternative – pathways needing a different combination/form of nutrient composition to support a unique gene environment or "turn down";
arrested or low/non-functioning – pathways to support or redirect.
3.One size does not fit all – because your gene story is unique, a health program should be personalized and tailored to the needs of your body. Your nutraMetrix Health Professional could help you by performing a Gene SNP DNA Analysis that will show gene variations and what components should be targeted.
4. Gene environment is influenced by more than nutrients – although nutrients are an essential component in optimizing your gene environment, maintaining an active lifestyle can significantly regulate gene environment. Sleep and stress management must be addressed to maximize your genetic potential. Nutrients and supplementation can help maximize your fitness, sleep, and stress/balance potential.
5. Combination is key – Because there is no one "master" promoter of health or optimized gene environment, it is vital to have a combination of different components, such as:

Physical Fitness
Optimized Sleep
Stress Balance
Select nutrients, fatty acids and antioxidants
Focusing on one component will not have a significant impact on your health. It takes a commitment to exercise, getting the proper amount of sleep, managing stress, as well as the nutrients you eat and supplements you take to create your optimal gene environment.
Key Ingredients Found In The Cardio-Shield Bundle
---
nutraMetrix Isotonix OPC-3
Grape Seed Extract (25 mg)
Grape seed extract is typically extracted from the seeds of red grapes (instead of white), which have a high content of compounds known as oligomeric proanthocyanidins (OPCs). Grape seed extract is extremely rich in polyphenols, compounds with high antioxidant activity. Grape seed extract has been found to maintain healthy cholesterol levels.
Red Wine Extract: 25 mg
Red wine extract is a powerful antioxidant. This extract is found in grape vines, roots, seeds and stalks, with the highest concentration in the skins. The antioxidant properties of red wine extract contribute to maintaining healthy circulation by strengthening capillaries, arteries and veins, and promoting overall cardiovascular health.
In the late 1990s, scientists took note of a phenomenon among the French. There were very low rates of cardiovascular problems in the provinces where residents consistently ate high fat foods and drank red wine. Scientists concluded that the protective properties of red wine have helped the French maintain cardiovascular health for years and subsequent scientific studies have further shown that the OPCs found in red wine are particularly beneficial for protecting the heart and blood vessels.
Pine Bark Extract (Pycnogenol®) (25 mg)
Pycnogenol is a natural plant extract from the bark of the maritime pine tree, which grows exclusively along the coast of southwest France in Les Landes de Gascogne. This unspoiled and natural forest environment is the unique source of pine bark. Pycnogenol is one of the most researched ingredients in the natural product marketplace. Published findings have demonstrated Pycnogenol's wide array of beneficial effects on the body. Pine bark extract is an all natural combination of procyanidins, bioflavonoids and organic acids.
The extract has three basic properties — it is a powerful antioxidant, selectively binds to collagen and elastin, and promotes the normal production of endothelial nitric oxide, which promotes the normal dilation of dilate blood vessels.
As one of the most potent natural scavenger of free radicals, Pycnogenol combats many aggressive free radicals before they cause oxidative stress to vital organs. Its super-antioxidant capabilities help support healthy blood platelet activity, support healthy blood glucose levels, reduce mild menstrual cramping and abdominal pain, maintain joint flexibility, promote cardiovascular health, promote healthy sperm quality, maintain healthy cholesterol levels and support a healthy complexion.
Bilberry Extract (25 mg)
Bilberry extract is derived from the leaves and berry-like fruit of a common European shrub closely related to the blueberry. Extracts of the ripe berry are known to contain flavonoid pigments known as anthocyanins, which are powerful antioxidants. Scientific studies confirm that bilberry extract supports healthy vision and venous circulation. Bilberry extract helps maintain healthy circulation by strengthening capillaries, arteries and veins.
Citrus Extract (Bioflavonoids) (25 mg)
Bioflavonoids are antioxidants found in certain plants that act as light filters, which protect delicate DNA chains and other important macromolecules by absorbing ultraviolet radiation. They have been found to promote cardiovascular health, help maintain healthy circulation by strengthening capillaries, arteries and veins, and demonstrate anti-inflammatory activity.
nutraMetrix Isotonix Activated B-Complex
Methylcobalamin (Vitamin B12) (120 mcg)
Vitamin B12 (cobalamin) is a bacterial product naturally found in animal products, especially organ meats, such as liver, with small amounts derived from peanuts and fermented soy products, such as miso and tempeh. It is essential that vegetarians consume a vitamin B12 supplement to maintain optimal health. Vitamin B12, when ingested, is stored in the liver and other tissues for later use. It supports the maintenance of cells, especially those of the nervous system, bone marrow and intestinal tract. Vitamin B12 is important in homocysteine metabolism (homocysteine is an amino acid that is formed within the body). Normal homocysteine levels are important for maintaining cardiovascular health. Deficiencies of the vitamins folic acid, pyridoxine (B6) or cobalamin (B12) can result in elevated levels of homocysteine. Folate and B12, in their active coenzyme form, are both necessary cofactors for the conversion of homocysteine to methionine, thus helping to maintain healthy blood levels of homocysteine.
Methylcobalamin is one of the naturally-occurring forms of vitamin B12 found in the human body. The liver must convert cyanocobalamin, the form of B12 most commonly used in supplements, into methylcobalamin, before it can be properly utilized by the body; methylcobalamin is more effective than non-active forms of vitamin B12. Methylcobalamin also assists in the formation of SAMe (S-adenosylmethionine), a nutrient that has powerful mood-elevating properties.
Folate [as (6S)-5-methyltetrahydrofolic acid, glucosamine salt, Quatrefolic®] (432 mcg)
Folic acid plays a key role by boosting the benefits of B12 supplementation. These two B vitamins join forces and work together in maintaining normal red blood cells. Folic acid assists in the normal utilization of amino acids and proteins, as well as supporting the construction of the material for DNA and RNA synthesis, which is necessary for all bodily functions. Scientific studies have found that when working in tandem with folic acid, B12 is capable of promoting normal homocysteine levels. This works toward supporting a healthy cardiovascular and nervous system.

Folic acid must go through conversion into 5-methyltetrahydrofolate (5-MTHF) – the active form of folate – before it becomes metabolically active for the body to use. The enzyme methylenetetrahydrofolate reductase (MTHFR) assists in that process. However, some people have a genetic variation where their bodies do not adequately produce MTHFR.

Quatrefolic® is the glucosamine salt of (6S)-5-methyltetrahydrofolate and is structurally analogous to the reduced and active form of folic acid. Because this form is naturally present in the body, it is much more bioavailable for its biological action without having to be metabolized in the body. This patented ingredient also provides greater sfont-style: italic;">Quatrefolic® is a registered trademark of Gnosis S.p.A. and is protected by U.S. patent No. 7,947,662.
Riboflavin-5-Phosphate (Vitamin B2) (3 mg)
Vitamin B2 is found in liver, dairy products, dark green vegetables and some types of seafood. Vitamin B2 serves as a coenzyme, working with other B vitamins. It promotes healthy red blood cell formation, supports the nervous system, respiration, antibody production and normal human growth. It supports healthy skin, nails, hair growth and promotes normal thyroid activity (a healthy thyroid is essential in maintaining a healthy weight, among other things). Vitamin B2 supports the body's ability to turn food into energy as a part of the electron transport chain, driving cellular energy on the micro-level. Riboflavin can be useful for pregnant or lactating women, as well as athletes due to their higher caloric needs. Vitamin B2 also promotes the normal breakdown of fats. Vitamin B2 is water-soluble and cannot be stored by the body except in insignificant amounts. It must be replenished daily.
Pyridoxal-5-Phosphate (Vitamin B6) (6 mg)
Poultry, fish, whole grains and bananas are the main dietary sources of vitamin B6. B6 is a co-factor required for protein and amino acid metabolism, and helps maintain proper fluid balance. It also assists in the maintenance of healthy red and white blood cells, which keeps our body healthy. Vitamin B6 promotes normal hemoglobin synthesis (hemoglobin is the protein portion of red blood cells which carries oxygen throughout the body). Because vitamin B6 is involved in the synthesis of neurotransmitters in the brain and nerve cells, it has been recommended as a nutrient to support mental function, specifically mood. Athletic supplements often include vitamin B6 because it promotes the conversion of glycogen to glucose for energy in muscle tissue. Vitamin B6, when taken with folic acid, has been shown to help maintain normal plasma levels of homocysteine, which promotes optimal cardiovascular health. Vitamin B6 should be administered as a part of a complex of other B vitamins for best results.
Magnesium (Carbonate) (40 mg)
Foods rich in magnesium include unpolished grains, nuts and green vegetables. Green, leafy vegetables are potent sources of magnesium because of their chlorophyll content. Meats, starches, milk, refined and processed foods contain low amounts of magnesium. Recent research shows that many American diets are magnesium deficient.
Magnesium is a component of the mineralized part of bone, and promotes the normal metabolism of potassium and calcium in adults. It helps maintain normal levels of potassium, phosphorus, calcium, adrenaline and insulin. It also supports the transportation of calcium inside the cell for utilization. Magnesium promotes the normal functioning of muscle and nervous tissue, and the synthesis of all proteins, nucleic acids, nucleotides, fats and carbohydrates.
Magnesium supports the normal release of energy from food during metabolism, regulation of body temperature, proper nerve function and helping the body handle stress. Importantly, magnesium also promotes healthy bones, teeth and normal muscle development. It works together with calcium and vitamin D to promote strong bones. Magnesium, when combined with calcium, helps support the heart muscle in maintaining a regular heartbeat and promoting normal blood pressure.
Potassium (Bicarbonate) (94 mg)
Potassium is an electrolyte stored in the muscles. Foods rich in potassium include bananas, oranges, cantaloupe, avocado, raw spinach, cabbage and celery. Potassium is an essential macromineral that helps maintain fluid balance in the body. It also plays a role in a wide variety of biochemical and physiological processes. Among other things, potassium promotes the transmission of nerve impulses, the contraction of cardiac, skeletal and smooth muscle, the production of energy, the synthesis of nucleic acids and the maintenance of normal blood pressure.
In 1928, it was first suggested that high potassium intake could help maintain cardiovascular health. Potassium promotes normal muscle relaxation and helps maintain normal insulin release. It also promotes glycogen and protein synthesis. Potassium is an electrolyte that promotes normal heartbeat. Potassium promotes the normal release of energy from protein, fat and carbohydrates during metabolism. Potassium helps maintain normal water balance, supports recovery from exercise and the elimination of wastes. Sodium and potassium are two of the most important ions in maintaining the homeostatic equilibrium of the body fluids.
Thiamin HCl (Vitamin B1) (2 mg)
Thiamin promotes normal carbohydrate metabolism and nerve function. Thiamin is required for a healthy nervous system, and supports the production of certain neurotransmitters which have an important role in muscle function. It supports the digestive process, increases energy and helps promote mental clarity.
D-Calcium Pantothenate (Vitamin B5) (20 mg)
Pantothenic acid (B5) promotes proper neurotransmitter activity in the brain. Pantothenic acid is also known as the anti-stress vitamin because it helps relieve physical and emotional stress, and promotes the secretion of hormones essential for optimal health.
Niacinamide (Vitamin B3) (20 mg)
Niacin is a water-soluble vitamin necessary for many aspects of health, growth and reproduction. Niacin supports the proper functioning of the digestive system, skin and nerves. It promotes the conversion of food to energy. Niacin is found in dairy products, poultry, fish, lean meats, nuts, eggs, legumes, and enriched breads and cereals.
Biotin (Vitamin B7) (300 mcg)
Biotin can be found in food sources, such as egg yolks, peanuts, beef liver, milk, cereals, almonds and Brewer's yeast. Biotin promotes healthy cell growth, the production of fatty acids, metabolism of fats and amino acids. It supports the citric acid cycle, which is the process in which energy is generated during exercise. Biotin is also helpful in maintaining steady blood sugar levels. Biotin is often recommended for maintaining strong hair and nails.
These 10 ingredients, combined with the superior delivery of Isotonix®, create a powerhouse B vitamin product superior to the rest on the market. Isotonix Activated B-Complex delivers all of the B vitamins along with select minerals and electrolytes to help boost energy, decrease stress, improve mood, and much more. The activated forms of select vitamins ensure maximal utilization by the body for optimal results.
nutraMetrix TLS Trim Tea
Black Tea Extract (Camellia sinensis): 700 mg
Camellia sinensis is a plant used to produce various types of teas, including black tea, green tea, and oolong tea. The difference in the teas involves the process in which the leaves are fermented. Leaves are fermented in black tea, partially fermented in oolong tea and unfermented in green tea. Due to these differential fermentation processes, black tea and green tea have different chemical constituents.
Polyphenols – such as flavonoids including catechins, thearubigins, and theaflavins — are abundant in black tea and thought to be responsible for many of its benefits. Black tea also contains tannins.
WellTrim® iG (IGOB131®) African Mango (Irvingia gabonensis) Seed Extract: 300 mg
WellTrim iG is a clinically-studied extract of African mango, also known as Irvingia gambogia. The African mango trees can be found throughout farms and tropical forests of Central and Western Africa. This botanical ingredient is a traditional West African culinary fruit kernel in which the mucilage (a glycoprotein) is used to make traditional soups, such as Ogbono. WellTrim® iG is the authentic, patented, clinically-tested irvingia seed extract for weight loss and metabolic wellness. One of WellTrim iG's mechanisms of action is supporting leptin sensitivity.
Leptin is a hormone involved with hunger signals. Research has shown leptin levels to be elevated in those who are overweight. Irvingia gabonensis supports leptin in its ability to enter the brain and signal the stomach that it is full.
Studies have shown Irvingia gabonensis also supports levels of the hormone adiponectin, a hormone closely related to glucose regulation/insulin sensitivity. Insulin helps our body store glucose correctly. This helps maintain normal blood sugar levels and promotes normal insulin activity. Higher levels of adiponectin are associated with increased insulin sensitivity, which can increase long-term metabolic health and overall weight loss. Higher adiponectin levels have also been shown to beneficially inhibit adipocytes (fat cells) from differentiating and multiplying, support fat burning and to support healthy endothelial function. Adiponectin levels are inversely related to body fat percentage; the greater the levels of adiponectin, the lower the percentage of fat. Additionally, the body's fat cells store excess fat in a form that is easily packed away.
Irvingia gabonensis acts upon one of the enzymes, glycerol-3-phosphate dehydrogenase, which helps form this stored fat. By moderating this enzyme, less fat is formed, causing a decline in the amount of fat stored. By supporting leptin sensitivity and healthy levels of adiponectin, Irvingia has the potential to help control hunger, help maintain normal blood sugar balance and promote thermogenesis–all important components of the metabolic rate. There are two published human clinical studies and that have shown effects of Irvingia gabonensis for areas including appetite control, satiety, thermogenesis, weight management and metabolic wellness. Significant improvements in weight management and metabolic wellness variables occurred in both studies.+
WellTrim® iG is a trademark of Icon Group, LLC.
IGOB131® is a trademark of Gateway Health Alliances, Inc. and is protected under U.S. Patent 7,537,790.
nutraMetrix Heart Health Essential Omega III Fish Oil with Vitamin E
Fish Body Oils 3000 mg [EPA† 900 mg and DHA† 600 mg]
Fish oils or marine oils are lipids (fats) found in fish, particularly cold water fish like herring, kipper, mackerel, menhaden, pilchard, salmon, sardine and trout, and phytoplankton. The sources of fish oil in Heart Health™ Omega III Fish Oil are sardines and anchovies, tested by the manufacturer and an independant testing company to be virtually free of mercury lead, PCB and other heavy metals. Fish oils are rich sources of omega-3 long-chain polyunsaturated fatty acids. EPA (eicosapentaenoic acid) and DHA (docosahexanenoic acid) are the two most studied fish oils. DHA is a necessary component of the phospholipids in human cellular membranes, especially those found in the brain and retina. Clinical studies have shown omega-3 fatty acids to help maintain healthy triglyceride levels. A strong correlation has also been shown between fish oil consumption and the ability to maintain healthy levels of C-reactive protein. Fish oils are also important in the maintenance of normal blood flow, as they support normal fibrinogen levels (coagulation or blood clotting), which contributes to normal platelet activity.
EPA and DHA have several mechanisms of action to help maintain normal triglyceride and cholesterol levels, help maintain normal blood flow and pressure, and support normal platelet activity. EPA and DHA help maintain normal triglyceride levels by promoting normal lipogenesis and supporting normal fatty acid oxidation in the liver. EPA and DHA promote the normal transcription of genes coding for lipogenesis enzymes and promote the normal transportation of the regulatory enzymes of fatty acid oxidation. Activating PPAR (peroxisome proliferator-activated receptor) - alpha, helps to support normal fatty acid oxidation. The promotion of normal lipogenesis is done through down-regulation of SREBP (sterol regulatory element binding protein) -1c messenger RNA.
EPA is the precursor to series-3 prostaglandins (PG), the series-3 thrombaxanes (TX) and the series-5 leukotrienes (LT). More specifically, EPA is a precursor to eicosanoids (TXA3 and LTB5), which promote normal platelet activity and promote normal vasodilation. These effects demonstrate EPA's potential ability to help maintain normal blood pressure and support normal blood clotting. Fish oils inhibit the arachidonic acid synthesis of thromboxane A2, which help to promote normal platelet activity and vasodilation. Fish oil may also contribute to the normal production of prostacyclin, a prostaglandin that promotes normal vasodilation and supports normal platelet activity.
Omega-3 fatty acids compete metabolically with omega-6 fatty acids, found in higher amounts in typical western diets. Omega-6 fatty acids may inhibit the incorporation of omega-3 fatty acids into tissue lipids. Omega-3 fatty acids may inhibit the conversion of many omega-6 fatty acids into arachidonic acid. Consumption of omega-3 fatty acids DHA and EPA, a corresponding increase of these fatty acids appears to occur in cell membranes and circulatory lipids along with a simulataneous reduction in omega-6 fatty acids.
Vitamin E (d-alpha tocopherol) 23 IU
The most valuable sources of dietary vitamin E include vegetable oils, margarine, nuts, seeds, avocados and wheat germ. Safflower oil contains large amounts of vitamin E (about two thirds of the RDA in ¼ cup), and there are trace amounts in corn oil and soybean oil. Vitamin E is actually a family of related compounds called tocopherols and tocotrienols. Vitamin E is available in a natural or synthetic form. In most cases, the natural and synthetic forms are identical except the natural form of vitamin E is better absorbed and retained in the body. The natural form of alpha-tocopherol is known as "d-alpha tocopherol." The synthetic "dl-" form is the most common form found in dietary supplements. For those individuals watching their dietary fat consumption, which is relatively common in the world of dieting, vitamin E intake is likely to be low, due to a reduced intake of foods with high fat content.
The main health benefit of supplemental vitamin E comes from its immune-boosting antioxidant activity. It supports a healthy cardiovascular system. Vitamin E is one of the most powerful fat-soluble antioxidants in the body. In turn, vitamin E protects cell membranes from free radical. Vitamin E is commonly added to fish oil supplements to provide antioxidant protection of DHA and EPA.
†According to the FDA, supportive, but not conclusive, research shows that consumption of EPA and DHA omega-3 fatty acids may reduce the risk of coronary heart disease.
nutraMetrix Heart Health Co-Q10 Cardiovascular & Immune Support Formula
Coenzyme Q10 (CoQSol-CF®)†: 102 mg
Coenzyme Q10 belongs to a family of substances called ubiquinones and is a water-insoluble, wax-like substance that is part of the respiratory chain. Since it is a coenzyme, it is necessary to support the action of an enzyme. CoQ10 is found in each of the trillions of cells throughout the body, except for mature red blood cells. It has a multitude of health benefits at the cellular level, in the cardiovascular system and with the body's metabolism.
Much is known about the biochemistry of CoQ10. CoQ10 is a two-part compound that is composed of a long, fat-soluble isoprenoid tail that anchors the molecule in the inner membrane of the mitochondria, and quinine that is capable of accepting and transferring electrons through a portion of the respiratory chain. The "Q" stands for quinine and the "10" stands for the number of isoprenoid units in the tail portion of the molecule. It is synthesized in the cells, and is involved in electron transport and energy production in mitochondria.
All cellular functions depend upon the production of adenosine triphosphate (ATP). ATP is a molecule with three high-energy phosphate bonds, and is the primary energy source for many metabolic processes. CoQ10 is essential to the ATP production process. The heart has a high metabolic demand, which is why normal levels of CoQ10 are associated with good cardiovascular health. As part of the energy production process, CoQ10 functions to generate energy from oxygen, in the form of ATP, for bodily processes. CoQ10 serves as a free radical scavenger and an antioxidant. The antioxidant activity in the mitochondria and cell membranes protects against peroxidation of lipid membranes. Combining CoQ10 with vitamin E generates a synergistic antioxidant effect on lipoprotein and spares the vitamin E.

CoQSol-CF® is a unique, patent-pending formula including these ingredients: CoQ10, food grade d-limonene (which serves as a non-polar, organic solvent), and tocopherols ( a form of vitamin E). This combination of ingredients creates a liquid, crystal-free solution of CoQ10 that provides enhanced bioavailability.
† CoQSol-CF® is a registered trademark of Soft Gel Technologies.

Vitamin E (d-alpha-Tocopherol): 200 IU
Vitamin E is a family of related compounds called tocopherols and tocotrienols. It is available in a natural or synthetic form. In most cases, the natural and synthetic forms are identical except the natural form of vitamin E is better absorbed and retained in the body. Along with vitamins A, D and K, vitamin E is a fat-soluble vitamin. For those individuals watching their dietary fat consumption, vitamin E intake is likely to be low due to a reduced intake of foods with high fat content.
Vitamin E is one of the most powerful fat-soluble antioxidants in the body. It helps protect cell membranes from the effects of free radicals. Additionally, high intakes of vitamin E has been found to support cardiovascular health.
Reviews
---
Displaying reviews 1 - 1 of 1
My Product Review of the Cario-Shield Bundle
I recently had to see a Cardiologist for some blood pressure issues and while my heart itself is perfectly healthy, I needed a change up of my BP Meds and some lifestyle changes.
I find that this bundle is just great for the support of Cardio Health. My cardiologist even suggested that I take Co-Q10 as well as Vitamin D3 and I was happy to report to him that "yes" I take those along with the other 3 products in this amazing bundle. It is always wonderful to hear that your doctor supports the supplements that you are taking.
One or more of the reviews shown may have been posted by a nutraMetrix or SHOP Consultant (An independent distributor of nutraMetrix and Market America products) or a nutraMetrix HP (A health professional who is an independent distributor of nutraMetrix and Market America products).