Product info
Why Choose The Cellular Defense Bundle*
---
In order to help keep free radicals from damaging your cells , it is important to consume a variety of powerful dietary components on a regular basis. Because most of us don't get enough of what we need from diet alone, taking antioxidants, proteases, fiber and fatty acids can support the removal of damaging effects of physiological processes that occur within the body. This damage may not cause noticeable harm at first yet may add up over the years. For optimal health, it is important to start early and assist your cellular defense system.
THE CELLULAR DEFENSE BUNDLE - INCLUDES FIVE PRODUCTS
Quantity of one each:

The Cellular Defense Bundle*
---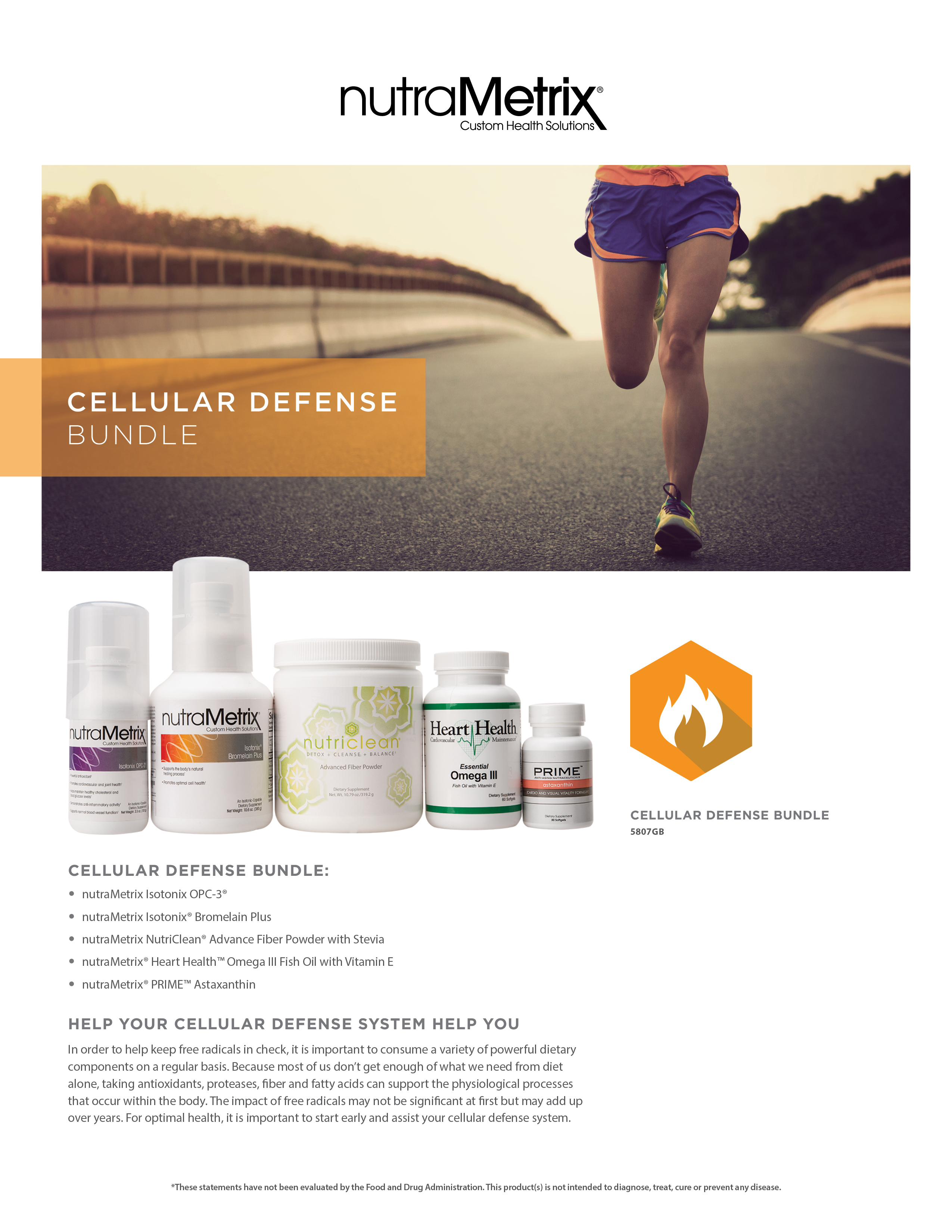 Additional Bundles Offered*
---
Optimizing Your Genetic Environment – 5 Important Considerations
1. There isn't one Superstar Gene – a healthy gene environment is not influenced by just one gene, but how all your genes interact with each other. Knowing your personal gene story will help provide the information needed to create an optimal gene environment.
2. Gene pathways – Your genetic expression may take one of three pathways:

Optimal gene potential – pathways to "turn up" or optimize;
Alternative – pathways needing a different combination/form of nutrient composition to support a unique gene environment or "turn down";
arrested or low/non-functioning – pathways to support or redirect.
3.One size does not fit all – because your gene story is unique, a health program should be personalized and tailored to the needs of your body. Your nutraMetrix Health Professional could help you by performing a Gene SNP DNA Analysis that will show gene variations and what components should be targeted.
4. Gene environment is influenced by more than nutrients – although nutrients are an essential component in optimizing your gene environment, maintaining an active lifestyle can significantly regulate gene environment. Sleep and stress management must be addressed to maximize your genetic potential. Nutrients and supplementation can help maximize your fitness, sleep, and stress/balance potential.
5. Combination is key – Because there is no one "master" promoter of health or optimized gene environment, it is vital to have a combination of different components, such as:

Physical Fitness
Optimized Sleep
Stress Balance
Select nutrients, fatty acids and antioxidants
Focusing on one component will not have a significant impact on your health. It takes a commitment to exercise, getting the proper amount of sleep, managing stress, as well as the nutrients you eat and supplements you take to create your optimal gene environment.
Key Ingredients Found In The Cellular Defense Bundle*
---
nutraMetrix Isotonix OPC-3
Grape Seed Extract (25 mg)
Grape seed extract is typically extracted from the seeds of red grapes (instead of white), which have a high content of compounds known as oligomeric proanthocyanidins (OPCs). Grape seed extract is extremely rich in polyphenols, compounds with high antioxidant activity. Grape seed extract has been found to maintain healthy cholesterol levels.
Red Wine Extract: 25 mg
Red wine extract is a powerful antioxidant. This extract is found in grape vines, roots, seeds and stalks, with the highest concentration in the skins. The antioxidant properties of red wine extract contribute to maintaining healthy circulation by strengthening capillaries, arteries and veins, and promoting overall cardiovascular health.
In the late 1990s, scientists took note of a phenomenon among the French. There were very low rates of cardiovascular problems in the provinces where residents consistently ate high fat foods and drank red wine. Scientists concluded that the protective properties of red wine have helped the French maintain cardiovascular health for years and subsequent scientific studies have further shown that the OPCs found in red wine are particularly beneficial for protecting the heart and blood vessels.
Pine Bark Extract (Pycnogenol®) (25 mg)
Pycnogenol is a natural plant extract from the bark of the maritime pine tree, which grows exclusively along the coast of southwest France in Les Landes de Gascogne. This unspoiled and natural forest environment is the unique source of pine bark. Pycnogenol is one of the most researched ingredients in the natural product marketplace. Published findings have demonstrated Pycnogenol's wide array of beneficial effects on the body. Pine bark extract is an all natural combination of procyanidins, bioflavonoids and organic acids.
The extract has three basic properties — it is a powerful antioxidant, selectively binds to collagen and elastin, and promotes the normal production of endothelial nitric oxide, which promotes the normal dilation of dilate blood vessels.
As one of the most potent natural scavenger of free radicals, Pycnogenol combats many aggressive free radicals before they cause oxidative stress to vital organs. Its super-antioxidant capabilities help support healthy blood platelet activity, support healthy blood glucose levels, reduce mild menstrual cramping and abdominal pain, maintain joint flexibility, promote cardiovascular health, promote healthy sperm quality, maintain healthy cholesterol levels and support a healthy complexion.
Bilberry Extract (25 mg)
Bilberry extract is derived from the leaves and berry-like fruit of a common European shrub closely related to the blueberry. Extracts of the ripe berry are known to contain flavonoid pigments known as anthocyanins, which are powerful antioxidants. Scientific studies confirm that bilberry extract supports healthy vision and venous circulation. Bilberry extract helps maintain healthy circulation by strengthening capillaries, arteries and veins.
Citrus Extract (Bioflavonoids) (25 mg)
Bioflavonoids are antioxidants found in certain plants that act as light filters, which protect delicate DNA chains and other important macromolecules by absorbing ultraviolet radiation. They have been found to promote cardiovascular health, help maintain healthy circulation by strengthening capillaries, arteries and veins, and demonstrate anti-inflammatory activity.
nutraMetrix Isotonix Bromelain Plus
Bromelain (544 mg)
Bromelain is a mixture of enzymes found in the stems of pineapples. It is distinct from the bromelain found in the pineapple fruit. Bromelain is used as a meat tenderizer in one application but has other mechanisms that support various aspects of health. As a mixture of proteases, bromelain has been used by Europeans for many years for its support of normal inflammatory response. Its components work to help support the body's normal inflammatory response and support the healing process. This is important for healthy joint function and adequate tissue repair, which supports the body's normal recovery process. Because these proteases can interfere with parts of the inflammatory cascade, supplementation may help to promote normal recovery after intense exercise.*
Bromelain has been extensively studied both in experimental models and clinical studies for its effects on the inflammatory response. Research also shows that bromelain may help support healthy blood viscosity and blood platelet aggregation, promoting healthy circulation. It also supports normal levels of fibrin in the blood, which promotes normal healing. Another study provided support of bromelain for promoting overall general well-being, along with support of comfort and physical function.
There is also support for its role in promoting healthy cells. Bromelain also works to digest protein but, when taken on an empty stomach, it is not used as a digestive enzyme but provides systemic effects throughout the body.
White Willow Bark (100 mg)
White willow bark is the bark of the salix tree, which is native to Europe and Asia. Its name comes from the color of the leaves, which are covered with white hairs. White willow bark has been traditionally used for many years, dating back as far as the ancient Egyptians who used it for its health properties. Willow bark constituents include flavonoids, tannins and salicylates. The active constituent of willow bark is thought to be salicin. In the body, salicin is metabolized to salicyl alcohol and then to salicylic acid. White willow bark has been shown to support normal blood platelet aggregation and promote healthy blood flow.
Protease (70 mg)
Proteases are proteolytic enzymes that work to break specific peptide bonds or break down a complete peptide to amino acids. Oral proteases taken on an empty stomach are absorbed and carried into the bloodstream where they work to help maintain healthy cellular proteins. As systemic enzymes, proteases support the body's normal recovery process. Combined with bromelain and white willow bark, the proteases help promote the body's normal inflammatory process and support normal healing.
nutraMetrix NutriClean Advance Fiber Powder with Stevia
Fibersol-2 ® (soluble fiber flucose polymer complex) (5,000 mg)
Fibersol-2 is a soluble fiber having a positive impact on the elimination of wastes and colon cleansing, as well as helping to maintain balanced bowels, helping support normal bowel regularity and fecal volume, and supporting healthy digestive function.
Inulin Fiber (fructo-oligosaccharide extract of chicory root) (5,000 mg)
Inulin fiber delivers eight milligrams of prebiotic, which is a subset fiber. These types of prebiotic fibers are food sources that are preferred by friendly bacteria. Inulin, an important prebiotic, exists in foods such as asparagus, chicory, garlic, Jerusalem artichoke and onion. Inulin or fructo-oligosaccharides (FOS) are fibers in the form of starches that the human body cannot fully digest. When a person consumes prebiotics, the undigested portions provide nourishment for beneficial bacteria in the digestive tract. Inulins may promote the growth of favorable bacterial populations, such as bifidobacteria in the colon. Bifidobacteria may inhibit the growth of pathogenic bacteria, such as Clostridium perfringens and diarrheogenic strains of Escherichia coli.
Probiotic Blend ( Lactobacillus acidophilus, Lactobacillus plantarum, Bifodobacterium bifidum, Lactobacillus casei )
Probiotics, such as acidophilus or Lactobacillus acidophilus, are strains of "beneficial" or "good" bacteria, known to help to maintain a healthy digestive tract. The digestive system naturally houses trillions of these good bacteria that directly help the body digest, modify and convert the foods we eat. Disruptions to these populations of probiotics (good bacteria) are common and must be kept at adequate levels in order to overwhelm other bacteria, which may begin to run rampant in the event the good bacteria levels decrease. In displacing other bacteria and yeast, acidophilus (and other beneficial bacteria like plantarun, bifidum and casei) may also play a significant role in maintaining a healthy immune system, and promoting a healthy colon. Such beneficial bacteria can be found naturally in foods, such as cultured yogurts and kefir.
Both human and animal studies have demonstrated direct benefits of consistent ingestion of acidophilus and other beneficial bacteria on immune system function. Overall, the probiotic bacteria support the ability of the immune system to recognize and destroy invading organisms. Several key fighters of the immune system, including macrophages, immunoglobulins cytokines, are benefit by regular intake of beneficial bacteria. Consuming beneficial bacteria helps maintain healthy white blood cell counts.
L-glutamine (1,000 mg)
High-protein foods, including meat, fish, beans and dairy products, are excellent sources of glutamine. L-glutamine is an amino acid derived from another amino acid, glutamic acid. Glutamine is a restorative amino acid that is used by the GI tract as its source of fuel. Glutamine helps to support overall health by helping to maintain normal cholesterol levels, helping to maintain normal blood glucose levels and promoting immune health. Heavy exercise, infection, surgery and trauma can all deplete the body's glutamine reserves, particularly in muscle cells. Because the cells of the intestine use glutamine for fuel, supplemental L-glutamine has been used to promote digestive health.
nutraMetrix Heart Health Essential Omega III Fish Oil with Vitamin E

Fish Body Oils 3000 mg [EPA† 900 mg and DHA† 600 mg]
Fish oils or marine oils are lipids (fats) found in fish, particularly cold water fish like herring, kipper, mackerel, menhaden, pilchard, salmon, sardine and trout, and phytoplankton. The sources of fish oil in Heart Health™ Omega III Fish Oil are sardines and anchovies, tested by the manufacturer and an independant testing company to be virtually free of mercury lead, PCB and other heavy metals. Fish oils are rich sources of omega-3 long-chain polyunsaturated fatty acids. EPA (eicosapentaenoic acid) and DHA (docosahexanenoic acid) are the two most studied fish oils. DHA is a necessary component of the phospholipids in human cellular membranes, especially those found in the brain and retina. Clinical studies have shown omega-3 fatty acids to help maintain healthy triglyceride levels. A strong correlation has also been shown between fish oil consumption and the ability to maintain healthy levels of C-reactive protein. Fish oils are also important in the maintenance of normal blood flow, as they support normal fibrinogen levels (coagulation or blood clotting), which contributes to normal platelet activity.
EPA and DHA have several mechanisms of action to help maintain normal triglyceride and cholesterol levels, help maintain normal blood flow and pressure, and support normal platelet activity. EPA and DHA help maintain normal triglyceride levels by promoting normal lipogenesis and supporting normal fatty acid oxidation in the liver. EPA and DHA promote the normal transcription of genes coding for lipogenesis enzymes and promote the normal transportation of the regulatory enzymes of fatty acid oxidation. Activating PPAR (peroxisome proliferator-activated receptor) - alpha, helps to support normal fatty acid oxidation. The promotion of normal lipogenesis is done through down-regulation of SREBP (sterol regulatory element binding protein) -1c messenger RNA.
EPA is the precursor to series-3 prostaglandins (PG), the series-3 thrombaxanes (TX) and the series-5 leukotrienes (LT). More specifically, EPA is a precursor to eicosanoids (TXA3 and LTB5), which promote normal platelet activity and promote normal vasodilation. These effects demonstrate EPA's potential ability to help maintain normal blood pressure and support normal blood clotting. Fish oils inhibit the arachidonic acid synthesis of thromboxane A2, which help to promote normal platelet activity and vasodilation. Fish oil may also contribute to the normal production of prostacyclin, a prostaglandin that promotes normal vasodilation and supports normal platelet activity.
Omega-3 fatty acids compete metabolically with omega-6 fatty acids, found in higher amounts in typical western diets. Omega-6 fatty acids may inhibit the incorporation of omega-3 fatty acids into tissue lipids. Omega-3 fatty acids may inhibit the conversion of many omega-6 fatty acids into arachidonic acid. Consumption of omega-3 fatty acids DHA and EPA, a corresponding increase of these fatty acids appears to occur in cell membranes and circulatory lipids along with a simulataneous reduction in omega-6 fatty acids.
Vitamin E (d-alpha tocopherol) 23 IU
The most valuable sources of dietary vitamin E include vegetable oils, margarine, nuts, seeds, avocados and wheat germ. Safflower oil contains large amounts of vitamin E (about two thirds of the RDA in ¼ cup), and there are trace amounts in corn oil and soybean oil. Vitamin E is actually a family of related compounds called tocopherols and tocotrienols. Vitamin E is available in a natural or synthetic form. In most cases, the natural and synthetic forms are identical except the natural form of vitamin E is better absorbed and retained in the body. The natural form of alpha-tocopherol is known as "d-alpha tocopherol." The synthetic "dl-" form is the most common form found in dietary supplements. For those individuals watching their dietary fat consumption, which is relatively common in the world of dieting, vitamin E intake is likely to be low, due to a reduced intake of foods with high fat content.
The main health benefit of supplemental vitamin E comes from its immune-boosting antioxidant activity. It supports a healthy cardiovascular system. Vitamin E is one of the most powerful fat-soluble antioxidants in the body. In turn, vitamin E protects cell membranes from free radical. Vitamin E is commonly added to fish oil supplements to provide antioxidant protection of DHA and EPA.
†According to the FDA, supportive, but not conclusive, research shows that consumption of EPA and DHA omega-3 fatty acids may reduce the risk of coronary heart disease.
nutraMetrix Prime Astaxanthin Cardio and Visual Vitality Formula
Astaxanthin (AstaReal® P2 AF 2%)(6 mg)
Astaxanthin is a carotenoid that gives the reddish pigment to salmon, crab, krill and lobster. It is known for its powerful antioxidant effects and has been shown to be a superior free radical quencher when compared to other antioxidants like vitamin C, coenzyme Q10 and green tea. Astaxanthin's unique structure includes long chains which allow it to cover the cell membrane and provide antioxidant protection in all layers, whereas other antioxidants are more limited.
Japanese who are the uppermost consumers of food containing astaxanthin (AX) in the world and have the lowest incidences of heart diseases amongst developed countries. In addition, a growing body of scientific evidence points to a strong link between natural astaxanthin and cardiovascular health. There have been 30 cardiovascular-specific research publications, including 10 clinical studies, investigating possible benefits of astaxanthin on both blood lipid levels and blood vessels. These studies have shown that astaxanthin helps maintain normal levels of HDL and triglycerides when consumed orally. Three recent clinical studies support astaxanthin's ability to help maintain healthy blood vessels. Other recent human studies indicate that astaxanthin supports cardiovascular health. A series of human studies suggest that astaxanthin helps maintain healthy blood pressure by promoting healthy blood flow and vascular tone. Astaxanthin supports cardiovascular health in several ways.
In addition to its effects on cardiovascular health, astaxanthin promotes healthy visual accommodation and retinal capillary blood flow. The exact mechanism by which astaxanthin supports vision is unknown, though some believe that by promoting blood flow to the ciliary body, it provides nourishment for the ciliary muscles. Astaxanthin is also believed to work by promoting normal NF-kB activation by oxygen radicals, which may explain how it helps to alleviate occasional eye fatigue.
Reviews
---
There are currently no reviews for this product.