Product info
Why Choose The Gut-Guard Bundle*
---
Having a healthy immune response and promoting normal immune activity requires a balance of our internal and external environment. This balance can be tipped in the wrong direction when we do not eat to maintain this equilibrium. Maintaining a balanced digestive system helps support our body's defenses. Environmental triggers and intestinal integrity all play a role in maintaining this balance, and therefore, you should have the right supplements in your regimen to support digestive health and promote a healthy gene environment.
THE GUT-GUARD BUNDLE - INCLUDES SIX PRODUCTS
Quantity of one each:

The Gene SNP Gut-Guard Bundle*
---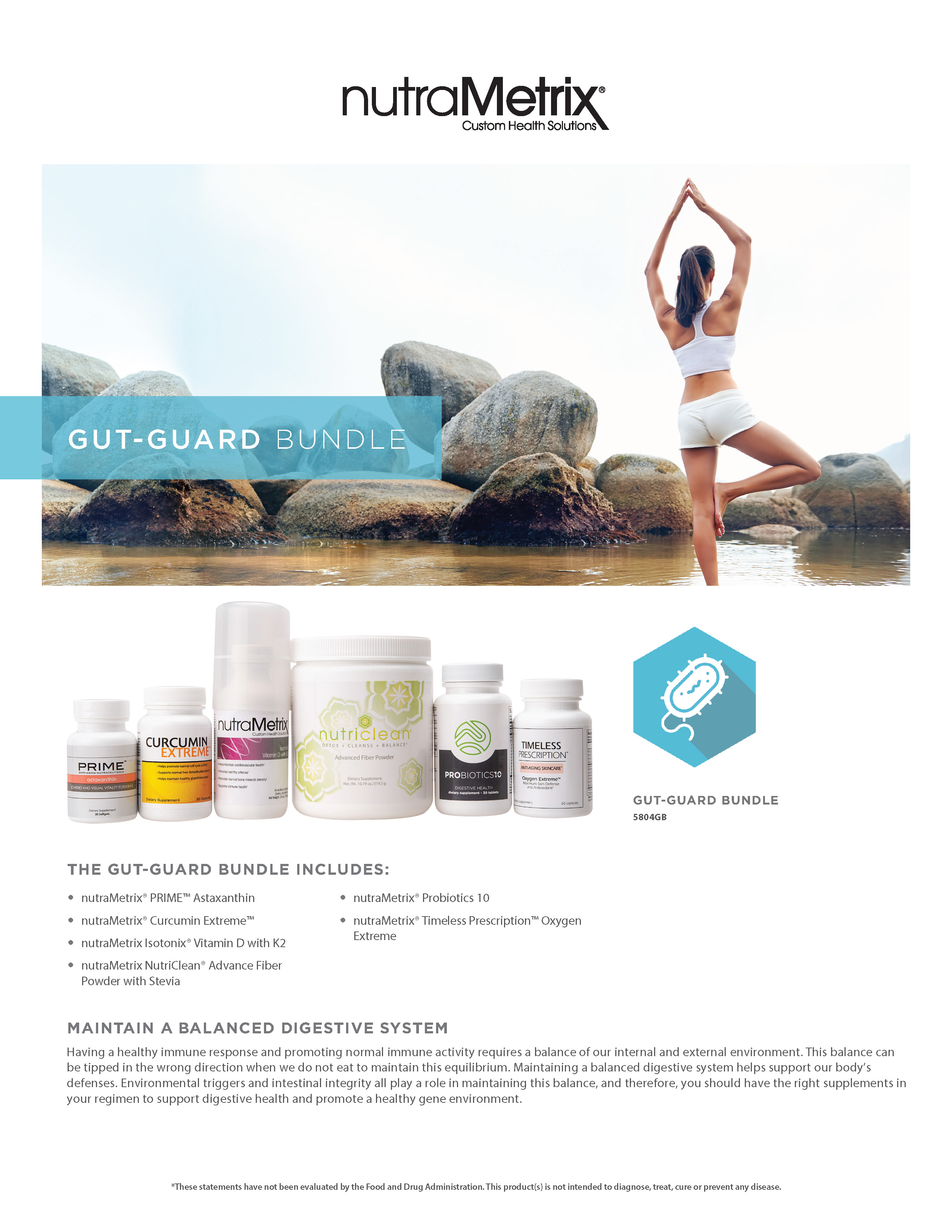 Additional Bundles Offered*
---
Optimizing Your Genetic Environment – 5 Important Considerations
1. There isn't one Superstar Gene – a healthy gene environment is not influenced by just one gene, but how all your genes interact with each other. Knowing your personal gene story will help provide the information needed to create an optimal gene environment.
2. Gene pathways – Your genetic expression may take one of three pathways:

Optimal gene potential – pathways to "turn up" or optimize;
Alternative – pathways needing a different combination/form of nutrient composition to support a unique gene environment or "turn down";
arrested or low/non-functioning – pathways to support or redirect.
3.One size does not fit all – because your gene story is unique, a health program should be personalized and tailored to the needs of your body. Your nutraMetrix Health Professional could help you by performing a Gene SNP DNA Analysis that will show gene variations and what components should be targeted.
4. Gene environment is influenced by more than nutrients – although nutrients are an essential component in optimizing your gene environment, maintaining an active lifestyle can significantly regulate gene environment. Sleep and stress management must be addressed to maximize your genetic potential. Nutrients and supplementation can help maximize your fitness, sleep, and stress/balance potential.
5. Combination is key – Because there is no one "master" promoter of health or optimized gene environment, it is vital to have a combination of different components, such as:

Physical Fitness
Optimized Sleep
Stress Balance
Select nutrients, fatty acids and antioxidants
Focusing on one component will not have a significant impact on your health. It takes a commitment to exercise, getting the proper amount of sleep, managing stress, as well as the nutrients you eat and supplements you take to create your optimal gene environment.
Reviews
---
Displaying reviews 1 - 1 of 1
Power Bundle
I can't say I was surprised when I reviewed my GeneSNP DNA Analysis and discovered that the Gut Guard Bundle was for me. Over the past few years, I had already added most of the products in this bundle to my daily regimen, and watch my health go from pretty good to great! I had no idea my past health challenges were related to my gut health! Since starting on all the products in this bundle: I sleep better, my moods are improved, my eyesight has significantly improved, my cholesterol levels have decreased, my weight has stabilized and my bowels have never felt better.
The Gut Guard Bundle certainly packs a punch!
One or more of the reviews shown may have been posted by a nutraMetrix or SHOP Consultant (An independent distributor of nutraMetrix and Market America products) or a nutraMetrix HP (A health professional who is an independent distributor of nutraMetrix and Market America products).