Product info
Why Choose The Gut-Guard Bundle*
---
Having a healthy immune response and promoting normal immune activity requires a balance of our internal and external environment. This balance can be tipped in the wrong direction when we do not eat to maintain this equilibrium. Maintaining a balanced digestive system helps support our body's defenses. Environmental triggers and intestinal integrity all play a role in maintaining this balance, and therefore, you should have the right supplements in your regimen to support digestive health and promote a healthy gene environment.
THE GUT-GUARD BUNDLE - INCLUDES SIX PRODUCTS
Quantity of one each:

Frequently Asked Questions*
---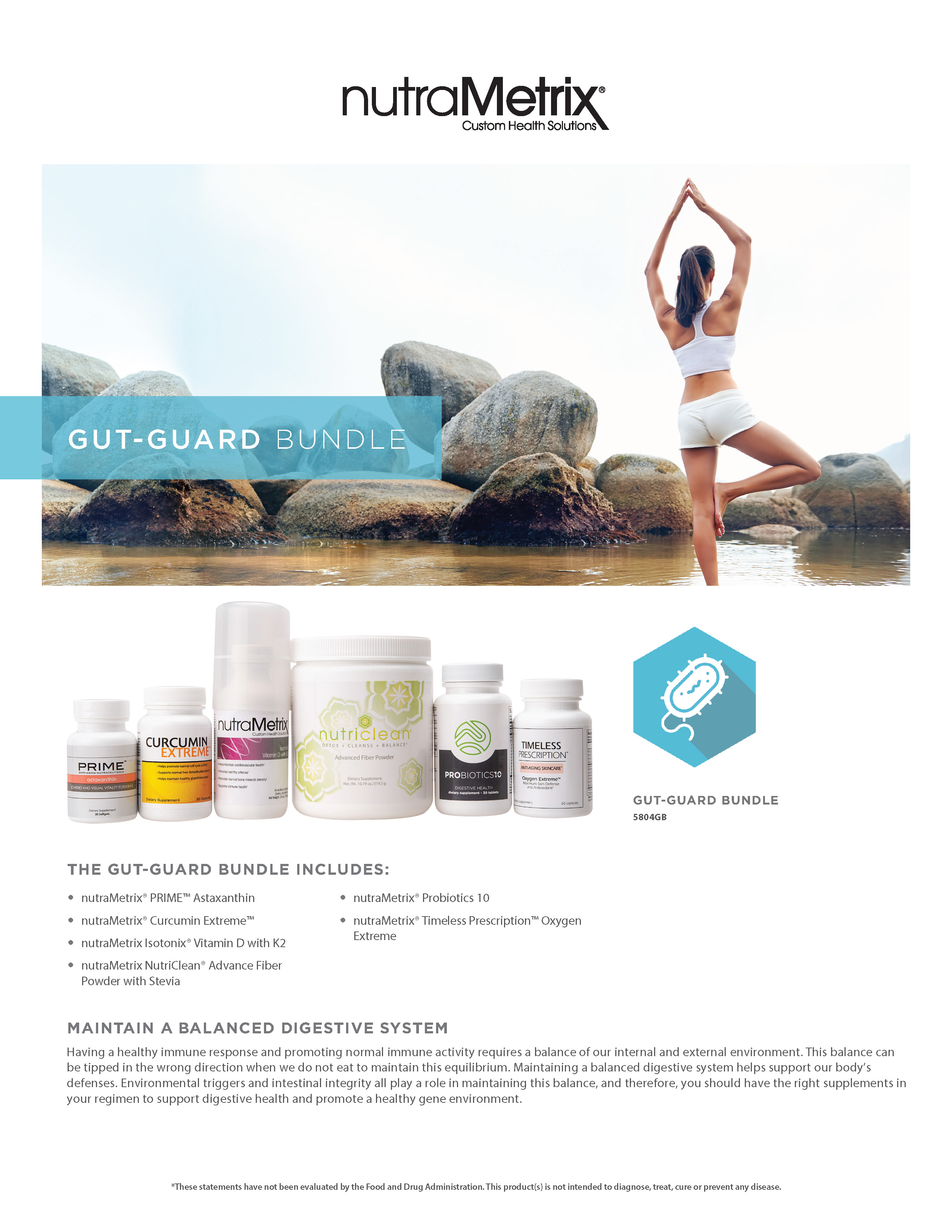 Why was nutraMetrix Isotonix® Vitamin D w/K2 chosen for the Gut Guard Bundle?
Vitamin D has been shown to support immune-modulation, and it is thought that supplementation promotes immune health by promoting the body's normal regulation of T-cell function. In reference to cellular health, vitamin D supports the modulation of many genes that are responsible for encoding proteins that regulate normal cell cycle activity. Vitamin D levels have been strongly correlated to healthy cells. nutraMetrix Isotonix Vitamin D with K2 contains vitamin D3, the metabolically active form of vitamin D, along with vitamin K2, a form of vitamin K which supports vascular health and calcium utilization. Vitamin D plays an important role in bone health, heart health and immune support, while working with vitamin K to support normal absorption of calcium and promote healthy arteries. Vitamin D deficiency can be caused by factors such as lack of exposure to sunlight, reduced skin synthesis of vitamin D, lower dietary intake, impaired intestinal absorption and reduced metabolism to active forms of vitamin D by the kidneys, all of which increase with aging.
Why was nutraMetrix® Curcumin Extreme™ chosen for the Gut Guard Bundle?
nutraMetrix® Curcumin Extreme™ is a supplement that promotes numerous biological functions, including overall liver health and normal production of detoxification enzymes, helping to scavenge toxins in the body that can build up over time. nutraMetrix® Curcumin Extreme™ also promotes overall cell integrity, immunity, cognitive health, and maintenance of healthy glutathione levels. Glutathione is known as the master antioxidant in the human body that preserves and protects the liver, brain and other body tissues from free radicals. Furthermore, glutathione supports two other powerful antioxidants, vitamins C and E.* nutraMetrix® Curcumin Extreme™ features the patented and significantly researched ingredient, Curcugreen™†. Unlike many curcumin products on the market, nutraMetrix® Curcumin Extreme™ with Curcugreen†™ provides exceptional bioavailability so you can actively receive maximum benefits. Curcumin Extreme™ also includes broccoli seed extract, a powerful source of sulphoraphane glucosinolates. Sulforaphanes support the normal production of phase II liver detoxification enzymes including glutathione synthase, heme-oxygenase and catalase. Glutathione serves to protect the brain and other body tissues from free radicals. This product is free of these common allergens: gluten, soy, wheat and dairy.
Why was nutraMetrix® PRIME™ Astaxanthin chosen for the Gut Guard Bundle?
This extremely powerful, fat soluble, anti-aging antioxidant helps maintain normal blood pressure, while promoting healthy blood flow to and from the heart, supporting the body's delivery of nutrients and removal of waste. nutraMetrix® PRIME™ Astaxanthin uses AstaReal® astaxanthin. With high quality and stability, AstaReal® astaxanthin ranks among the purest and most powerful antioxidants available. AstaReal® uses precision cultivation techniques in state-of the-art facilities, producing only 100 percent natural astaxanthin in a purified, sterile environment. * nutraMetrix® PRIME™ Astaxanthin delivers a 6 mg serving of this high-grade astaxanthin in a single serving, providing the optimal amount in every pill. This makes Prime Astaxanthin a giant step forward in the longevity revolution through its unequaled ability to combat free radicals at the cellular level.
Why was nutraMetrix NutriClean® Advance Fiber Powder w/Stevia chosen for the Gut Guard Bundle?
nutraMetrix NutriClean® Advance Fiber Powder helps balance the activity of the bowel. The bowel is the major point of excretion from the digestive system and a major determinant in overall digestive system health. This blend of fibers and probiotics team up to deliver optimum cleansing by purifying the colon as it balances the bowel, and promotes a healthy immune system. nutraMetrix NutriClean Advanced Fiber Powder delivers top quality soluble fiber with beneficial probiotics, which promotes the growth of good bacteria in the colon, keeping things in balance in terms of microorganisms. nutraMetrix NutriClean Advanced Fiber powder contains one of the most advantageous mixtures of L-glutamine, inulin, Fibersol-2 and probiotics. NutriClean Advanced Fiber Powder's probiotic blend supplies 1.5 billion healthful microorganisms. The average American does not get enough fiber in their daily diet. This is unfortunate because this often-forgotten nutrient should be among one of the most important components of your diet. Fiber benefits include the ability to help maintain healthy levels of cholesterol, triglycerides, glucose, intestinal regularity and healthy intestinal microflora (food for good bacteria).
Why was nutraMetrix® Probiotic-10 chosen for the Gut Guard Bundle?
There are hundreds of different bacteria present in the digestive tract called microflora. Some of these bacteria support the body in maintaining healthy digestive function. Maintaining a healthy balance of healthy bacteria and "bad" bacteria supports not only your digestive health, but your immune health as well. Probiotics are a heavily researched option for maintaining digestive balance, and helping to maintain healthy colonization of bacteria within your gut ecosystem. Probiotics are able to support our digestive system with helpful bacteria that neutralize harmful bacteria. Exposure to environmental toxins and lifestyle factors like stress, excessive alcohol use and unhealthy diets make sustaining gut balance increasingly important. Offering 10 of the most common and studied probiotic strains, each with unique benefits, Probiotics 10 works synergistically to support numerous areas of health, from immunity to stomach comfort and bowel regularity.* Probiotics-10 contains trace amounts of milk from the fermentation process. This product is suitable for individuals following lactose-restricted and lactose-free diets.
Why was nutraMetrix® Timeless Prescription™ Oxygen Extreme chosen for the Gut Guard Bundle?
Timeless Prescription Oxygen Extreme is a combination of vitamins, minerals and special herbs in capsule form that helps protect our body from the negative effects of free radicals. Timeless Prescription Oxygen Extreme counteracts seven known species of free radicals.* Scientists now believe that by increasing the body's intake of antioxidants, one can stay healthy longer. The challenge is finding the right antioxidants, in the right amounts, to effectively target the different types of free radicals in the body.
Vitamins C and E are antioxidants in the body that help to protect the body against the negative effects of free radicals. Antioxidants neutralize free radicals by donating one of their own electrons. They act as scavengers, helping neutralize free radicals. Vitamin E is the most abundant fat-soluble antioxidant in the body. It is one of the most efficient, chain-breaking antioxidants available. It is a primary defender against oxidation and lipid peroxidation (creation of unstable molecules containing more oxygen than is usual). Vitamin C is the most abundant water-soluble antioxidant in the body. It acts primarily in cellular fluid. It is particularly effective in combating free-radical formation caused by pollution and other environmental factors. It also helps return vitamin E to its active form. The best way to fight free radicals is with a collection of antioxidants. In order to be effective, there must be a team of antioxidants all working together. When you supplement with a team of antioxidants, you will find that the whole is greater than the sum of its parts.
Selenium and vitamin E are synergists, meaning they each improve the efficiency of the other. Moreover, selenium promotes the body's production of glutathione peroxidase, the body's master antioxidant. Selenium is an essential trace mineral that works closely with vitamin E to provide the body with powerful antioxidant protection from free radicals. Selenium protects the body from free radicals in two ways: It is incorporated into proteins to make selenoproteins, which are important antioxidant enzymes, and it supports the body in manufacturing its own natural antioxidant, glutathione.
Milk Thistle is used to promote liver health. Contains some of the most potent liver-supporting substances known. Protects against free radicals by acting as an antioxidant, protecting the liver. Supports the normal production of new liver cells.
Additional Bundles Offered*
---
Optimizing Your Genetic Environment – 5 Important Considerations
1. There isn't one Superstar Gene – a healthy gene environment is not influenced by just one gene, but how all your genes interact with each other. Knowing your personal gene story will help provide the information needed to create an optimal gene environment.
2. Gene pathways – Your genetic expression may take one of three pathways:

Optimal gene potential – pathways to "turn up" or optimize;
Alternative – pathways needing a different combination/form of nutrient composition to support a unique gene environment or "turn down";
arrested or low/non-functioning – pathways to support or redirect.
3.One size does not fit all – because your gene story is unique, a health program should be personalized and tailored to the needs of your body. Your nutraMetrix Health Professional could help you by performing a Gene SNP DNA Analysis that will show gene variations and what components should be targeted.
4. Gene environment is influenced by more than nutrients – although nutrients are an essential component in optimizing your gene environment, maintaining an active lifestyle can significantly regulate gene environment. Sleep and stress management must be addressed to maximize your genetic potential. Nutrients and supplementation can help maximize your fitness, sleep, and stress/balance potential.
5. Combination is key – Because there is no one "master" promoter of health or optimized gene environment, it is vital to have a combination of different components, such as:

Physical Fitness
Optimized Sleep
Stress Balance
Select nutrients, fatty acids and antioxidants
Focusing on one component will not have a significant impact on your health. It takes a commitment to exercise, getting the proper amount of sleep, managing stress, as well as the nutrients you eat and supplements you take to create your optimal gene environment.
Reviews
---
Displaying reviews 1 - 4 of 4
Amazing!
This bundle has different pieces that make it so essential. Each piece on its own is a treasure for our body.
Response from Customer Service:
February 8, 2021
Dear Valued Customer,

Thank you for taking the time to share your thoughts on the Gut-Guard Bundle! We are happy to hear you are pleased with the products.

Thank you again!
The Product Information Team
GREAT BUNDLE!!! LOVE IT!!!
WHAT A WONDERFUL BUNDLE!!! I LOVE IT! MY GUT HELP ME MANAGE MY WEIGHT AND GO DAILY. HOWEVER WITH THE NEW ISOTONIX ASTAXANTHIN. IS IT POSSIBLE TO MAKE A BUNDLE WITH ISOTONIX ASTAXANTHIN TOO?
Response from Customer Service:
March 15, 2020
Dear Valued Customer,

Thank you for taking the time to leave your thoughts on the The Gut-Guard Bundle ! We are happy to hear you are pleased with the product. At this time we do not have a bundle with the new Isotonix Astaxanthin. However, I will certainly forward along the feedback to product management.

Thank you again!
The Product Information Team
GI Health
This Gut-Guard Bundle was highly recommended in the results of my GENE SNP Analysis. I use most of these products already individually & was happy to see them all put together in one kit for ease of purchase. Affirmed for me I was on the right track of supplements needed for my GI tract! Also makes it easy for me to recommend one kit for my patients with the same concerns as me. Love this Bundle!
Response from Customer Service:
December 9, 2019
Dear Valued Customer,

Thank you for taking the time to leave your thoughts on The Gut-Guard Bundle. We are happy to hear you are pleased with the products.

Thank you again!
The Product Information Team
Power Bundle
I can't say I was surprised when I reviewed my GeneSNP DNA Analysis and discovered that the Gut Guard Bundle was for me. Over the past few years, I had already added most of the products in this bundle to my daily regimen, and watch my health go from pretty good to great! I had no idea my past health challenges were related to my gut health! Since starting on all the products in this bundle: I sleep better, my moods are improved, my eyesight has significantly improved, my cholesterol levels have decreased, my weight has stabilized and my bowels have never felt better.
The Gut Guard Bundle certainly packs a punch!
One or more of the reviews shown may have been posted by a nutraMetrix or SHOP Consultant (An independent distributor of nutraMetrix and Market America products) or a nutraMetrix HP (A health professional who is an independent distributor of nutraMetrix and Market America products).