Product info
Why Choose The Resistance Bundle*
---
Aging and lifestyle choices may impact our body's hormone balance. Maintaining a healthy glycemic balance and staying active may help us stay healthy, especially as we age. Maintaining a healthy weight, an active lifestyle, and a sensible dietary composition are all factors that help support metabolic health. Making lifestyle interventions, including supplementation appropriate for your gene environment, can be a critical tool for health, weight and wellness.
THE RESISTANCE BUNDLE - INCLUDES FIVE PRODUCTS
Quantity of one each:

The Resistance Bundle
---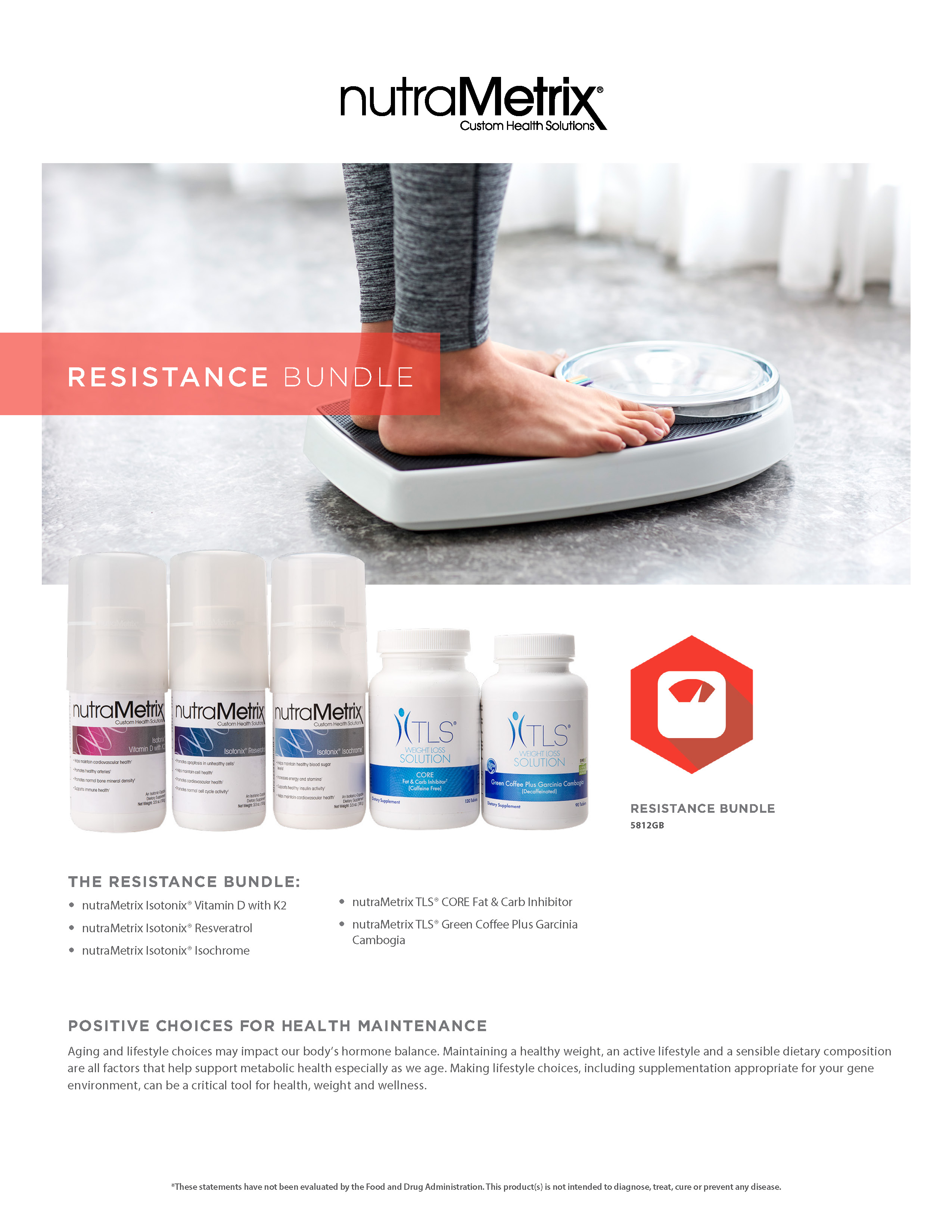 Additional Bundles Offered*
---
Optimizing Your Genetic Environment – 5 Important Considerations
1. There isn't one Superstar Gene – a healthy gene environment is not influenced by just one gene, but how all your genes interact with each other. Knowing your personal gene story will help provide the information needed to create an optimal gene environment.
2. Gene pathways – Your genetic expression may take one of three pathways:

Optimal gene potential – pathways to "turn up" or optimize;
Alternative – pathways needing a different combination/form of nutrient composition to support a unique gene environment or "turn down";
arrested or low/non-functioning – pathways to support or redirect.
3.One size does not fit all – because your gene story is unique, a health program should be personalized and tailored to the needs of your body. Your nutraMetrix Health Professional could help you by performing a Gene SNP DNA Analysis that will show gene variations and what components should be targeted.
4. Gene environment is influenced by more than nutrients – although nutrients are an essential component in optimizing your gene environment, maintaining an active lifestyle can significantly regulate gene environment. Sleep and stress management must be addressed to maximize your genetic potential. Nutrients and supplementation can help maximize your fitness, sleep, and stress/balance potential.
5. Combination is key – Because there is no one "master" promoter of health or optimized gene environment, it is vital to have a combination of different components, such as:

Physical Fitness
Optimized Sleep
Stress Balance
Select nutrients, fatty acids and antioxidants
Focusing on one component will not have a significant impact on your health. It takes a commitment to exercise, getting the proper amount of sleep, managing stress, as well as the nutrients you eat and supplements you take to create your optimal gene environment.
Key Ingredients Found in The Resistance Bundle*
---
nutraMetrix Isotonix Vitamin D with K2

Vitamin D3 (Cholecalciferol) 5000 IU
Vitamin D is a fat-soluble vitamin that is found in some foods and endogenously produced when sunlight strikes the skin and activates vitamin D synthesis. Vitamin D promotes the efficient intestinal absorption of calcium, primarily in the duodenum and jejunum by supporting the synthesis of calcium-binding proteins to promote normal calcium absorption and retention. Vitamin D also promotes the normal formation of bone and normal bone growth and bone remodeling by osteoblasts and osteoclasts. Vitamin D deficiency can be caused by factors such as lack of exposure to sunlight, reduced skin synthesis of vitamin D, lower dietary intake, impaired intestinal absorption and reduced metabolism to active forms of vitamin D by the kidneys, all of which increase with aging. Deficiency has been linked to numerous health concerns, and insufficient levels of this vitamin are associated with weak bones and muscle weakness. In addition to promoting strong bones, vitamin D also has other roles in health, including supporting the body's normal modulation of neuromuscular function and immune function. Vitamin D has been shown to support immune-modulation, and it is thought that supplementation promotes immune health by promoting the body's normal regulation of T-cell function. In reference to cellular health, vitamin D supports the modulation of many genes that are responsible for encoding proteins that regulate normal cell cycle activity. Vitamin D levels have been strongly correlated to healthy cells. Lastly, through its interaction with VDR (vitamin D receptor), vitamin D supports the healthy expression of the gene encoding renin, thus helping to maintain healthy blood pressure.*
Vitamin K2 45 mcg

Vitamin K is a fat-soluble vitamin found in meat, eggs, dairy and natto. Although a fat-soluble vitamin, the body stores very little K2, and its stores are rapidly depleted without regular dietary intake. Natural vitamin K2, also known as menaquinone-7 (MK-7), is the most bioavailable form of K2 and has the longest half-life in the blood of any form of vitamin K. The Japanese soy food natto is particularly rich in menaquinone-7 (MK-7). Studies of natto consumption in Japan have linked menaquinone-7 to bone and cardiovascular health. The correlation of vitamin K to cardiovascular and bone health directly focuses on supporting proper calcium utilization, whereby adequate metabolism of calcium supports arterial and bone health. This is often referred to as the calcium paradox. The calcium paradox is explained simply as getting calcium in the right place (i.e., into the bone structures instead of the arterial vessel walls.) These events are dependent upon the synthesis of the vitamin K-dependent proteins osteocalcin and matrix Gla protein in a process called carboxylation. The carboxylation of these proteins is a post-translational step; that is, osteocalcin and matrix Gla protein are translated from their respective messenger RNA and then modified by enzymes to the active forms. These carboxylated forms support the healthy binding and releasing of calcium. This reaction is essential for optimal and healthy utilization of calcium. Vitamin K2 promotes the synthesis of proteins involved with calcium utilization, thereby supporting bone retention and arterial health. While Vitamin D supports the healthy regulation and synthesis of osteocalcin, the mineral-binding capacity of this protein requires vitamin K-dependent carboxylation and is thought to be related to bone mineralization. Gas6 is a vitamin K-dependent protein found throughout the nervous system, as well in the heart, lungs, stomach, kidneys and cartilage. Although the exact mechanism of its action has not been determined, Gas6 appears to be a cellular growth regulator involved in cellular activities such as cell adhesion, cell proliferation and protection against apoptosis.
nutraMetrix Isotonix Resveratrol
Resveravine® (20% resveratrol extract): 10 mg
Resveratrol is a natural antioxidant found in red wine. Resveravine is a natural extract from Vitis vinifera standardized to contain 20% oligostilbenes. Resveravine is 100 to 300 times more concentrated in trans-resveratrol than other products made from grape skin. It provides antioxidant protection of low-density lipoprotein (LDL) particles, promotes normal platelet activity, vasorelaxation and blood flow, all which support cardiovascular health. It has been shown to promote apoptosis (programmed cell death) in unhealthy cells. Another proposed mechanism of action involves the study of the SIRT-1 gene (also known as the longevity gene). Sirtuins, known as Silent Information Regulators (SIRs), are deacetylase enzymes identified in all living creatures. Sirtuin proteins are known to play an important role in keeping regions of chromosomes turned off. Sirtuin controls the enzyme that converts acetate, a source of calories, into acetyl-CoA, a key component of cellular respiration. In humans, there are seven different sirtuins, SIRT-1 to SIRT-7. SIRT-1 has been studied by scientist for its potential effect on human cell lifespan.
Resveratrol promotes normal activity of SIRT-1. Studies have shown that SIRT-1 activates a critical component of calorie restriction in mammals and promotes fat mobilization. The most recent study (Nature 2006) demonstrated that obese mice fed red wine extract (resveratrol) were in better health and lived longer than obese mice that were not fed the red wine extract. The resveratrol group were more able to maintain heart health compared to mice that were not fed resveratrol. SIRT-1 activation also supports healthy mitochondrial function and supports energy expenditure. Resveratrol has also been shown to have phytoestrogen activity and may support optimal estradiol activity. Other studies have documented neuroprotective benefits associated with resveratrol supplementation.A comparison test was made to evaluate the activating effect on human SIRT-1 of Resveravine and pure trans -resveratrol. Only the trans-resveratrol form of the molecule promotes normal activation of the mammalian SIRT-1 gene in vitro test. Resveravine was more than eight times more likely to promote SIRT-1 activity than pure trans -resveratrol, showing that Resveravine is more efficient than resveratrol in promoting the normal activity of SIRT-1. Therefore, while the specific mechanisms of SIRT-1 and resveratrol are still unclear, the studies show that SIRT-1 is essential in lifespan extension and health improvement, and resveratrol promotes SIRT-1 activity.Studies in numerous species have demonstrated that reduction of calories 30 to 50 percent below ad libitium levels of a nutritious diet can promote a longer lifespan, improve overall health, promote normal stress resistance and decelerate functional decline. Studies showed that, SIRT-1 activates a critical component of calorie restriction in mammals, and promotes fat mobilization in adipocytes by repressing PPAR (test conducted on mice). Because healthy fat levels have been shown to promote a longer murine lifespan, it is suggested that calorie restriction could be connected to SIRT-1 and life extension in mammals. As an alternative strategy, new research has focused on the development of calorie restriction mimetics, compounds that mimic the effect of calorie restriction by targeting metabolic and stress response pathways affected by calorie restriction, but without restricting caloric intake. Resveratrol has been suggested as a potential calorie restriction mimetic. Supplementing mice with resveratrol significantly increases their aerobic capacity. By promoting healthy SIRT-1 activity, resveratrol promotes healthy mitochondrial function and supports energy expenditure, thereby promoting healthy weight. In vivo test conducted on mice on a high-calorie diet, resveratrol shifts the physiology of middle-aged mice on a high-calorie diet towards that of mice on a standard diet and promotes their overall health.
BioVin® Advanced (French Red Wine Extract with 5% resveratrol): 200 mg
Red wine extract containing oligomeric proanthocyanins (OPCs), known to be extremely effective in supporting cardiovascular health by supporting normal blood circulation, strengthening blood vessels, and promoting normal platelet activity. BioVin Advanced provides OPCs and additional Resveratrol. The red wine grape contains two main constituents shown to be of significant antioxidant value: red wine polyphenols (flavonoids) and trans-resveratrol (mentioned above). Oligomeric proanthocyanins are flavonoid complexes that act as super potent antioxidants in the human body. BioVin Advanced combines the antioxidant properties of OPCs with trans- resveratrol to promote phase 2 metabolizing enzymes, which are involved in the detoxification of the body's cells, promoting apoptosis (programmed cell death) in unhealthy cells, promoting healthy cholesterol levels, and general free-radical scavenging properties.
VitaBlue® Wild Blueberry Extract (12.5% anthocyanins): 50 mg
Blueberries rank highest among many fruits and vegetables for ORAC activity and contain 25-30 different types of anthocyanins. Anthocyanin gives blueberries (and other fruits) their rich blue and red coloring, and is a powerful flavonoid antioxidant. The mechanism of action surrounding anthocyanins has been studied at the molecular level, demonstrating effects such as the promotion of healthy cells and apoptosis (programmed cell death). Blueberries provide large amounts of chlorogenic acid, which is thought to be important in promoting cellular health. VitaBlue Wild Blueberry Extract supports the body's COX-2 inhibitors and provides powerful antioxidants in much higher quantities than fresh blueberries, and show to be effective in promoting cardiovascular health, contributing to normal cell cycle traverse, and maintaining overall cellular health.
nutraMetrix Isotonix Isochrome
Chromium Picolinate
Chromium picolinate is an essential trace mineral which promotes efficient functioning of insulin, which is important because good insulin activity is critical for hunger control, supporting metabolism, building and retaining muscle and vital organ tissue. Chromium picolinate is good for individuals trying to lose weight since it helps retain muscle mass. When muscle tissue is lost, it may reduce the metabolic rate.
Chromium Arginate
Chromium arginate is a form of chromium that is bonded with the essential amino acid Arginine. Like chromium picolinate, it too can support normal insulin activity and the metabolism of protein, fat and carbohydrates. Together with chromium picolinate, chromium arginate helps to support cardiovascular health by helping to maintain normal insulin sensitivity. It also helps maintain healthy blood sugar and cholesterol levels, preserve lean muscle mass and control sugar cravings.
Coenzyme Q10
Coenzyme Q10 belongs to a family of substances called ubiquinones and is a fat-soluble, wax-like substance that is part of the respiratory chain. It is synthesized in the cells and is involved in electron transport and energy production in mitochondria where about 95 percent of the total energy required by the human body is generated. In the cellular system, CoQ10 functions to generate energy from oxygen, in the form of ATP. CoQ10 also exhibits activity as a free radical scavenger and an antioxidant. The antioxidant activity in the mitochondria and cell membranes protects against peroxidation of lipid membranes.* Coenzyme Q10 can be found in spinach, broccoli, nuts, meats and fish. In the body, it is found in highest concentration in the cells of the heart, liver, kidney, spleen and pancreas, which all require vast amounts of energy. Supplementation with CoQ10 may be most beneficial for adults because the levels of CoQ10 in the body tend to peak around the age of 20 and then decline with age.
L-Carnitine
L-carnitine is an amino acid that is found in nearly all cells of the body. L-carnitine supports fat metabolism in the heart, organs and tissue. L-carnitine occurs naturally in animal products and only very small amounts are found in plants, with a few exceptions, such as avocado and some fermented soy products. It also plays an essential role in the transporting of long chain fatty acids into the mitochondria of the cell, which results in additional energy in the form of adenosine triphosphate (ATP). L-carnitine is synthesized in the body, mainly in the liver and kidneys, from the essential amino acids L-lysine and L-methionine.
Lipase
Lipase is a fat-digesting enzyme that supports the body's normal breakdown of dietary fats into an absorbable form. Lipases, such as human pancreatic lipase, support the normal conversion of triglyceride substrates found in oils from food to monoglycerides and free fatty acids. Some lipases also work within the interior spaces of living cells to support the normal degradation of lipids.
nutraMetrix TLS CORE Fat & Carb Inhibitor
Chromium (100 mcg/serving; 200 mcg/day)
Dietary chromium is an essential trace mineral assisting in the metabolism and use of carbohydrates and fat. Known as the glucose tolerance factor, chromium promotes the delivery of blood sugar to cells, thereby helping to maintain normal insulin activity. Chromium also helps maintain healthy levels of cholesterol and other blood lipids. Due to the role it plays in metabolism, chromium is commonly added to natural weight loss products.
Phaseolus Vulgaris (White Kidney Bean Extract) (445 mg/serving; 890 mg/day)
Research has shown that supplementation with white kidney bean extract promoted a greater reduction in body weight, body mass index (BMI) and fat mass. Scientifically known as Phaseolus vulgaris, white kidney bean is classified as an amylase inhibitor. Amylase is an enzyme that breaks down starchy carbohydrates into more easily absorbed sugars such as glucose. As individuals age, the ability to use carbohydrates from the diet slows down, causing increased glucose in the bloodstream, leading to excess storage in the form of fat. Amylase plays a role in the digestion of carbohydrates and, subsequently, in the absorption of unwanted calories.
Supplementation with white kidney bean extract allows certain carbohydrates to pass through the body undigested, stopping them from eventually being converted into fat. This bypass of undigested carbohydrates may reduce and normalize levels of simple sugars (glucose) in the blood.
LeptiCore® (300 mg/serving; 600 mg/day)
LeptiCore has been clinically proven to help reduce body weight, stored body fat, and waist and hip size. LeptiCore–a proprietary, safe and natural complex of plant-based polysaccharides and esterified fatty acids–has demonstrated the ability to enhance weight loss. LeptiCore targets critical mechanisms involved with body fat storage. LeptiCore supports the normal activity of leptin, a hormone involved with hunger signals. Imagine leptin as a mail messenger. Now imagine the brain as a mail box. In overweight people, there is a lock on the mail box and the mail messenger cannot deliver the mail on any day. LeptiCore is the key that unlocks the mail box, allowing mail to be delivered. With LeptiCore, leptin sensitivity is supported. LeptiCore supports the ability of leptin to enter the brain and signal the stomach that it is full. Supporting leptin sensitivity has the potential to increase satiety, decrease appetite, promote blood sugar balance and increase thermogenesis–a significant component of the metabolic rate.
GreenSelect® Phytosome® Green Tea Decaffeinated Extract (150 mg/serving; 300 mg/day)
GreenSelect Phytosome is unlike the regular green teas you see on the market today. It is a combination of standardized decaffeinated green tea extract and soy phospholipids (lipids that are composed mainly of fatty acids, a phosphate group, and a simple organic molecule). It is designed to help protect the body from the negative effects of free radicals, and enhance the product's bioavailability and efficacy.
Green tea has long been studied for its powerful antioxidant properties. It is also believed to promote a healthy metabolic rate, which helps you burn more calories and achieve weight loss. Scientific research has also demonstrated that standardized green tea extracts promote fat oxidation, or the breakdown of stored fat for energy.
nutraMetrix TLS Green Coffee Plus Garcinia Cambogia
Svetol®† Green Coffee Extract (400 mg daily)
Svetol® is a plant extract of decaffeinated green coffee bean. It has been clinically researched to support weight and body fat management through unique mechanisms of helping to maintain healthy blood glucose levels. Svetol is obtained from unroasted coffee beans of the Robusta variety and possesses a unique composition of chlorogenic acids, which are responsible for its effectiveness. The mechanism by which it works involves the inhibition of glucose-6-phosphatase, an important enzyme for producing glucose. By inhibiting this enzyme, Svetol helps to maintain normal glucose levels. Additionally, it decreases the intestinal absorption of glucose. Both of these mechanisms of action contribute to weight loss by promoting the use of fat as a source of energy. In other words, when the body does not have readily accessible glucose to use for energy, it then has to burn the stored fat for energy. By helping to maintain normal glucose levels, the body finds alternative energy sources like stored fat, acting as a thermogenic agent, which contributes to weight loss. Svetol's traditional extraction procedure and its unique mechanism of action set this ingredient apart from other green coffee beans on the market. The 400 mg dose of Svetol is equivalent to three to six cups of coffee (depending on the quality of coffee and preparation) and provides all of the benefits of coffee, without the high dose of caffeine. Svetol is clinically studied with benefits for body weight management and helping to maintain normal glucose levels. Supported by eight published and clinical studies, it is the most clinically researched brand of green coffee bean extract on the market today.
Garcinia Cambogia (1500 mg, 60% HCA, daily)
Garcinia cambogia is a small fruit from southern India, which contains hydroxycitric acid (HCA). HCA is the active component found in this fruit. It works to inhibit ATP-citrate lyase, a key enzyme in the metabolic process. This enzyme is responsible for converting excess sugar into fat and facilitating the synthesis of fatty acids, cholesterol and triglycerides. When calorie intake exceeds the body's needs for energy, the excess glucose is converted into glycogen, also known as stored fat to be used for energy later. Weight gain occurs after the body's capacity for glycogen is reached. By inhibiting ATP-citrate lyase, HCA helps reduce sugar from being converted to fat, thus causing your body to burn stored fat for energy instead. Garcinia cambogia also works to promote weight loss by helping to maintain normal serotonin levels. Serotonin is a neurotransmitter in the brain very heavily involved in appetite control and emotional food cravings. HCA's role in promoting normal serotonin helps support your control of emotional eating behaviors, supporting your efforts to weight loss.
Reviews
---
There are currently no reviews for this product.