Product info
Why Choose The Revitalize Bundle*
---
In every cell in your body, there are small "batteries" called mitochondria. Mitochondria are responsible for your energy reserves. As we age, many of us look for help in producing the energy needed to support our day-to-day activities. The majority of cellular energy is derived from the mitochondria making it essential to support and revitalize our cellular energy so we can take on the day, especially as we age.
THE REVITALIZE BUNDLE - INCLUDES FOUR PRODUCTS
Quantity of one each:

Frequently Asked Questions*
---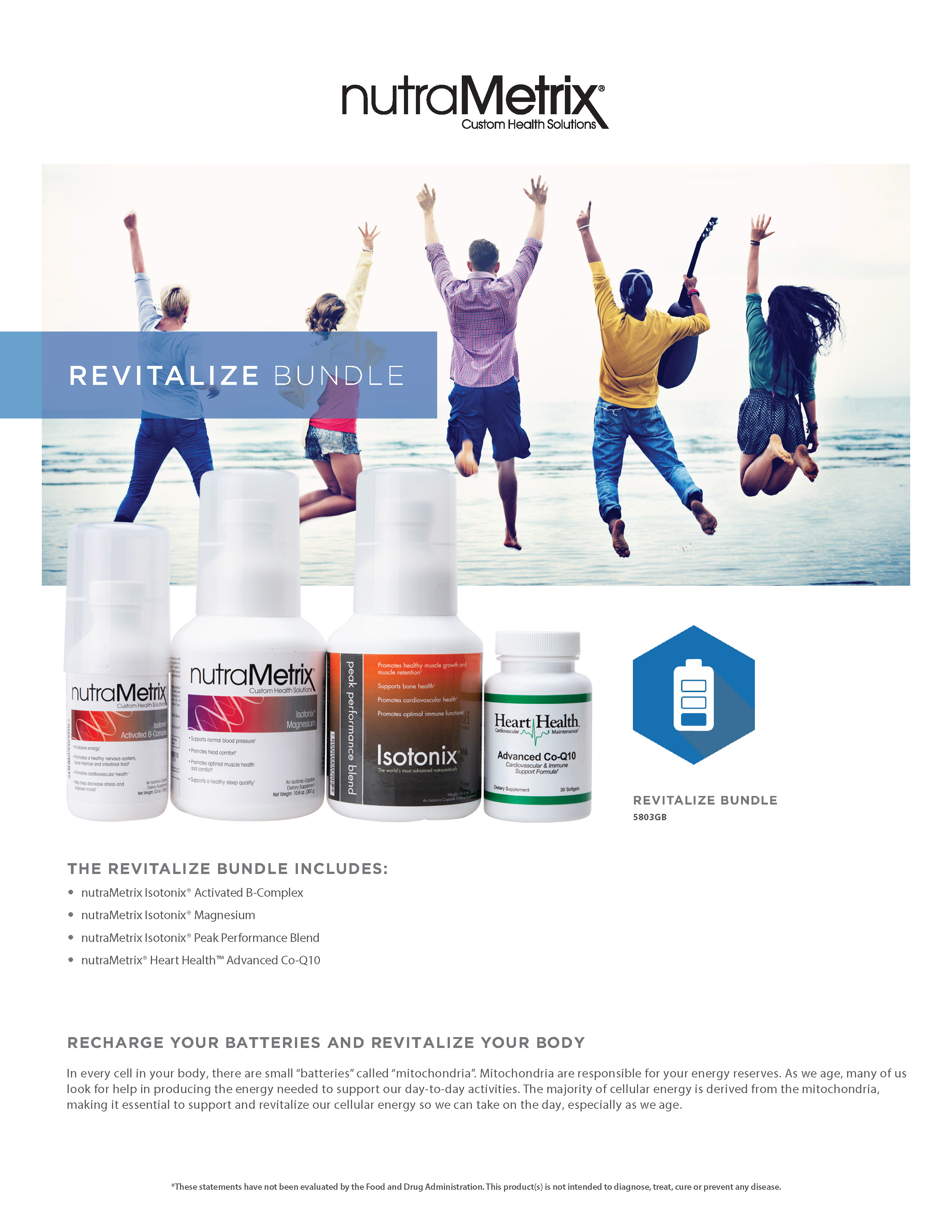 Activated B Complex
What does "Activated" refer to in nutraMetrix Isotonix® Activated B-Complex?
Activated refers to the active forms of vitamins B6, B12 and folic acid. Using forms other than these activated forms requires that the vitamins be enzymatically activated prior to utilization by the body. Not only does this take time and energy within the body, there are circumstances in which this reaction is either slowed or inhibited.
Why are B-vitamins so important in the aging process?
B vitamins are important and necessary for numerous metabolic processes within the body. As people age, the ability to absorb vitamins decreases and reduced levels of these vitamins have been associated with impaired cognitive performance, including vitamin B12. B12 plays a critical role in promoting normal energy production and nervous system function.
Magnesium
How much magnesium should I be getting, and why do I need a magnesium supplement versus getting it from my normal diet?
Even with a proper, balanced diet, the amount of nutrients in foods today vastly differs from those of even a generation ago. In addition, food preparation methods may decrease the magnesium content of food. For these reasons, it is important to help balance our diets with nutritional supplements that can provide additional nutritional assistance.
Why were these forms of magnesium (citrate and glycinate) chosen?
Both of these forms of magnesium were carefully chosen based on the latest scientific rationale, as they have been shown to have excellent oral absorption rates and work well within the Isotonix® delivery system.
Does this product need to be taken on an empty stomach?
Yes. For maximum absorption, the product should be taken on an empty stomach. As a dietary supplement, this product is best when taken twice daily, one capful in the morning and one capful in the evening or as directed by your healthcare provider.
Heart Health Advanced CoQ10
If my body makes CoQ10, why should I take a supplement?
Supplementation of CoQ10 has been shown to raise blood levels of this co-enzyme when the body's ability to synthesize it begins to decrease.
Peak Performance
Why should I take nutraMetrix Isotonix® Peak Performance Blend?
Everyone is vulnerable to the aging process caused by free radicals. In fact, these free radicals are known to limit performance, as free radicals appear to take their toll on muscle tissue. Not only does Isotonix Peak Performance Blend help defend your body against free radicals, thanks to Pycnogenol® , but the inclusion of Instantized Branch Chain Amino Acids can help reduce muscle fatigue.
Additional Bundles Offered
---
Optimizing Your Genetic Environment – 5 Important Considerations
1. There isn't one Superstar Gene – a healthy gene environment is not influenced by just one gene, but how all your genes interact with each other. Knowing your personal gene story will help provide the information needed to create an optimal gene environment.
2. Gene pathways – Your genetic expression may take one of three pathways:

Optimal gene potential – pathways to "turn up" or optimize;
Alternative – pathways needing a different combination/form of nutrient composition to support a unique gene environment or "turn down";
arrested or low/non-functioning – pathways to support or redirect.
3.One size does not fit all – because your gene story is unique, a health program should be personalized and tailored to the needs of your body. Your nutraMetrix Health Professional could help you by performing a Gene SNP DNA Analysis that will show gene variations and what components should be targeted.
4. Gene environment is influenced by more than nutrients – although nutrients are an essential component in optimizing your gene environment, maintaining an active lifestyle can significantly regulate gene environment. Sleep and stress management must be addressed to maximize your genetic potential. Nutrients and supplementation can help maximize your fitness, sleep, and stress/balance potential.
5. Combination is key – Because there is no one "master" promoter of health or optimized gene environment, it is vital to have a combination of different components, such as:

Physical Fitness
Optimized Sleep
Stress Balance
Select nutrients, fatty acids and antioxidants
Focusing on one component will not have a significant impact on your health. It takes a commitment to exercise, getting the proper amount of sleep, managing stress, as well as the nutrients you eat and supplements you take to create your optimal gene environment.
Key Ingredients Found In The Revitalize Bundle*
---
nutraMetrix Isotonix Activated B-Complex
Methylcobalamin (Vitamin B12) (120 mcg)
Vitamin B12 (cobalamin) is a bacterial product naturally found in animal products, especially organ meats, such as liver, with small amounts derived from peanuts and fermented soy products, such as miso and tempeh. It is essential that vegetarians consume a vitamin B12 supplement to maintain optimal health. Vitamin B12, when ingested, is stored in the liver and other tissues for later use. It supports the maintenance of cells, especially those of the nervous system, bone marrow and intestinal tract. Vitamin B12 is important in homocysteine metabolism (homocysteine is an amino acid that is formed within the body). Normal homocysteine levels are important for maintaining cardiovascular health. Deficiencies of the vitamins folic acid, pyridoxine (B6) or cobalamin (B12) can result in elevated levels of homocysteine. Folate and B12, in their active coenzyme form, are both necessary cofactors for the conversion of homocysteine to methionine, thus helping to maintain healthy blood levels of homocysteine.
Methylcobalamin is one of the naturally-occurring forms of vitamin B12 found in the human body. The liver must convert cyanocobalamin, the form of B12 most commonly used in supplements, into methylcobalamin, before it can be properly utilized by the body; methylcobalamin is more effective than non-active forms of vitamin B12. Methylcobalamin also assists in the formation of SAMe (S-adenosylmethionine), a nutrient that has powerful mood-elevating properties.
Folate [as (6S)-5-methyltetrahydrofolic acid, glucosamine salt, Quatrefolic®] (432 mcg)
Folic acid plays a key role by boosting the benefits of B12 supplementation. These two B vitamins join forces and work together in maintaining normal red blood cells. Folic acid assists in the normal utilization of amino acids and proteins, as well as supporting the construction of the material for DNA and RNA synthesis, which is necessary for all bodily functions. Scientific studies have found that when working in tandem with folic acid, B12 is capable of promoting normal homocysteine levels. This works toward supporting a healthy cardiovascular and nervous system.

Folic acid must go through conversion into 5-methyltetrahydrofolate (5-MTHF) – the active form of folate – before it becomes metabolically active for the body to use. The enzyme methylenetetrahydrofolate reductase (MTHFR) assists in that process. However, some people have a genetic variation where their bodies do not adequately produce MTHFR.

Quatrefolic® is the glucosamine salt of (6S)-5-methyltetrahydrofolate and is structurally analogous to the reduced and active form of folic acid. Because this form is naturally present in the body, it is much more bioavailable for its biological action without having to be metabolized in the body. This patented ingredient also provides greater sfont-style: italic;">Quatrefolic® is a registered trademark of Gnosis S.p.A. and is protected by U.S. patent No. 7,947,662.
Riboflavin-5-Phosphate (Vitamin B2) (3 mg)
Vitamin B2 is found in liver, dairy products, dark green vegetables and some types of seafood. Vitamin B2 serves as a coenzyme, working with other B vitamins. It promotes healthy red blood cell formation, supports the nervous system, respiration, antibody production and normal human growth. It supports healthy skin, nails, hair growth and promotes normal thyroid activity (a healthy thyroid is essential in maintaining a healthy weight, among other things). Vitamin B2 supports the body's ability to turn food into energy as a part of the electron transport chain, driving cellular energy on the micro-level. Riboflavin can be useful for pregnant or lactating women, as well as athletes due to their higher caloric needs. Vitamin B2 also promotes the normal breakdown of fats. Vitamin B2 is water-soluble and cannot be stored by the body except in insignificant amounts. It must be replenished daily.
Pyridoxal-5-Phosphate (Vitamin B6) (6 mg)
Poultry, fish, whole grains and bananas are the main dietary sources of vitamin B6. B6 is a co-factor required for protein and amino acid metabolism, and helps maintain proper fluid balance. It also assists in the maintenance of healthy red and white blood cells, which keeps our body healthy. Vitamin B6 promotes normal hemoglobin synthesis (hemoglobin is the protein portion of red blood cells which carries oxygen throughout the body). Because vitamin B6 is involved in the synthesis of neurotransmitters in the brain and nerve cells, it has been recommended as a nutrient to support mental function, specifically mood. Athletic supplements often include vitamin B6 because it promotes the conversion of glycogen to glucose for energy in muscle tissue. Vitamin B6, when taken with folic acid, has been shown to help maintain normal plasma levels of homocysteine, which promotes optimal cardiovascular health. Vitamin B6 should be administered as a part of a complex of other B vitamins for best results.
Magnesium (Carbonate) (40 mg)
Foods rich in magnesium include unpolished grains, nuts and green vegetables. Green, leafy vegetables are potent sources of magnesium because of their chlorophyll content. Meats, starches, milk, refined and processed foods contain low amounts of magnesium. Recent research shows that many American diets are magnesium deficient.
Magnesium is a component of the mineralized part of bone, and promotes the normal metabolism of potassium and calcium in adults. It helps maintain normal levels of potassium, phosphorus, calcium, adrenaline and insulin. It also supports the transportation of calcium inside the cell for utilization. Magnesium promotes the normal functioning of muscle and nervous tissue, and the synthesis of all proteins, nucleic acids, nucleotides, fats and carbohydrates.
Magnesium supports the normal release of energy from food during metabolism, regulation of body temperature, proper nerve function and helping the body handle stress. Importantly, magnesium also promotes healthy bones, teeth and normal muscle development. It works together with calcium and vitamin D to promote strong bones. Magnesium, when combined with calcium, helps support the heart muscle in maintaining a regular heartbeat and promoting normal blood pressure.
Potassium (Bicarbonate) (94 mg)
Potassium is an electrolyte stored in the muscles. Foods rich in potassium include bananas, oranges, cantaloupe, avocado, raw spinach, cabbage and celery. Potassium is an essential macromineral that helps maintain fluid balance in the body. It also plays a role in a wide variety of biochemical and physiological processes. Among other things, potassium promotes the transmission of nerve impulses, the contraction of cardiac, skeletal and smooth muscle, the production of energy, the synthesis of nucleic acids and the maintenance of normal blood pressure.
In 1928, it was first suggested that high potassium intake could help maintain cardiovascular health. Potassium promotes normal muscle relaxation and helps maintain normal insulin release. It also promotes glycogen and protein synthesis. Potassium is an electrolyte that promotes normal heartbeat. Potassium promotes the normal release of energy from protein, fat and carbohydrates during metabolism. Potassium helps maintain normal water balance, supports recovery from exercise and the elimination of wastes. Sodium and potassium are two of the most important ions in maintaining the homeostatic equilibrium of the body fluids.
Thiamin HCl (Vitamin B1) (2 mg)
Thiamin promotes normal carbohydrate metabolism and nerve function. Thiamin is required for a healthy nervous system, and supports the production of certain neurotransmitters which have an important role in muscle function. It supports the digestive process, increases energy and helps promote mental clarity.
D-Calcium Pantothenate (Vitamin B5) (20 mg)
Pantothenic acid (B5) promotes proper neurotransmitter activity in the brain. Pantothenic acid is also known as the anti-stress vitamin because it helps relieve physical and emotional stress, and promotes the secretion of hormones essential for optimal health.
Niacinamide (Vitamin B3) (20 mg)
Niacin is a water-soluble vitamin necessary for many aspects of health, growth and reproduction. Niacin supports the proper functioning of the digestive system, skin and nerves. It promotes the conversion of food to energy. Niacin is found in dairy products, poultry, fish, lean meats, nuts, eggs, legumes, and enriched breads and cereals.
Biotin (Vitamin B7) (300 mcg)
Biotin can be found in food sources, such as egg yolks, peanuts, beef liver, milk, cereals, almonds and Brewer's yeast. Biotin promotes healthy cell growth, the production of fatty acids, metabolism of fats and amino acids. It supports the citric acid cycle, which is the process in which energy is generated during exercise. Biotin is also helpful in maintaining steady blood sugar levels. Biotin is often recommended for maintaining strong hair and nails.
These 10 ingredients, combined with the superior delivery of Isotonix®, create a powerhouse B vitamin product superior to the rest on the market. Isotonix Activated B-Complex delivers all of the B vitamins along with select minerals and electrolytes to help boost energy, decrease stress, improve mood, and much more. The activated forms of select vitamins ensure maximal utilization by the body for optimal results.
nutraMetrix Isotonix Magnesium
Magnesium (Citrate & Glycinate) 400 mg
Magnesium is a component of the mineralized part of bone and supports the normal metabolism of potassium and calcium in adults. It helps maintain normal levels of potassium, phosphorus, calcium, adrenaline and insulin. It also promotes the normal mobilization of calcium, transporting it inside the cell for further utilization. It plays a key role in supporting the normal functioning of muscle and nervous tissue.
Magnesium promotes the normal synthesis of all proteins, nucleic acids, nucleotides, cyclic adenosine monophosphate, lipids and carbohydrates. Magnesium is required for release of energy and it promotes the normal regulation of body temperature and proper nerve function, it helps the body handle stress, and it promotes a healthy metabolism. Magnesium works together with calcium to help maintain the normal regulation of the heart and blood pressure. Importantly, magnesium also supports the body's ability to build healthy bones and teeth, and promotes proper muscle development. It works together with calcium and vitamin D to help keep bones strong. Magnesium also promotes cardiovascular health by supporting normal platelet activity and helping to maintain normal cholesterol levels.
Potassium (Bicarbonate) 150 mg
Potassium is an electrolyte stored in the muscles. Foods rich in potassium include bananas, oranges, cantaloupe, avocado, raw spinach, cabbage and celery. Potassium is an essential macromineral that helps maintain fluid balance in the body. It also supports a wide variety of biochemical and physiological processes.
Among other things, potassium supports the normal transmission of nerve impulses, contraction of cardiac, skeletal and smooth muscle, synthesis of nucleic acids, maintenance of intracellular tonicity and maintenance of normal blood pressure. In 1928, it was first suggested that high potassium intake could help maintain cardiovascular health. Potassium supports normal muscle relaxation and insulin release. It also promotes glycogen and protein synthesis. Potassium is an electrolyte that promotes normal heartbeat. Potassium supports the body's ability to regulate water balance, recover from exercise and eliminate wastes.
nutraMetrix Isotonix Peak Performance Blend
Pycnogenol® (25 mg)
Pycnogenol is a natural plant extract from the bark of the maritime pine tree, which grows exclusively along the coast of southwest France in Les Landes de Gascogne. This unspoiled and natural forest environment is the unique source of pine bark. Pycnogenol is one of the most researched ingredients in the natural product marketplace. Published findings have demonstrated Pycnogenol's wide array of support to the body. Pine bark extract is an all-natural combination of procyanidins, bioflavonoids and organic acids. The extract has three basic properties — it is a powerful antioxidant, selectively binds to collagen and elastin, and promotes the normal production of endothelial nitric oxide, which promotes the normal dilation of blood vessels. As one of the most powerful natural scavengers of free radicals, Pycnogenol combats free radicals before they cause oxidative stress to vital organs. Its super-antioxidant capabilities promote cardiovascular health
Instantized Branch Chain Amino Acids (IBCAAs) (3 g)
Branched chain amino acids (BCAA) are considered essential, as they cannot be synthesized by the human body and, therefore, must be consumed through diet or supplementation. Unlike other amino acids, BCAA are used primarily by skeletal muscle, making up 30-35 percent of the muscle tissue itself. These amino acids promote healthy muscle growth and retention. As aging occurs, the body's ability to build and retain muscle tissue or size is reduced, which can result in weakness and frailty. Research has shown that supplementation with BCAA promotes muscle retention in older adults. Additionally, it has been shown that supplementation of BCAA during exercise supports muscle protein synthesis and inhibits protein catabolism (breakdown) and muscle fatigue. By using instantized BCAAs within the isotonic system, there is a quicker dissolution and increased bioavailability.
Activated B Vitamins (Folinic Acid, Methylcobalamin and Pyridoxal 5' Phosphate)
B vitamins support numerous metabolic processes in the body. This formula contains the activated forms of select B vitamins to promote optimal use by the body. By using these advanced forms, the body has to work less for utilization and effectiveness is increased. Folinic acid, methylcobalamin (B12) and pyridoxal 5' phosphate (B6) are known to promote cardiovascular health. Additional B vitamins such as B1, B5, niacin and biotin support many processes allowing this product to work via several mechanisms to increase energy, promote cardiovascular health, decrease stress and improve mood while helping to maintain normal serotonin levels.
Vitamin C (60 mg)
Vitamin C is a multi-faceted nutrient primarily known for its antioxidant benefits and strong role in immune health. Vitamin C helps support cardiovascular health in a few different ways. Vitamin C protects against LDL peroxidation by scavenging free radicals.
Vitamin D3 (400 IU)
Vitamin D is a fat-soluble vitamin that is found in some foods and endogenously produced when sunlight strikes the skin and activates vitamin D synthesis. Vitamin D promotes the efficient intestinal absorption of calcium, by supporting the synthesis of calcium-binding proteins to promote normal calcium absorption and retention. Vitamin D also promotes the normal formation of bone and normal bone growth, and bone remodeling by osteoblasts and osteoclasts. Vitamin D deficiency can be caused by factors such as lack of exposure to sunlight, reduced skin synthesis of vitamin D, lower dietary intake, impaired intestinal absorption, and reduced metabolism to active forms of vitamin D by the kidneys, all of which increase with aging. Deficiency has been linked to numerous health concerns and insufficient levels of this vitamin are associated with weak bones and muscle weakness. In addition to promoting strong bones, vitamin D also has other roles in health, including supporting the body's immune function. Vitamin D has been shown to support normal immune-modulation, and it is thought that supplementation promotes immune health by promoting the body's normal regulation of T-cell function.
Coenzyme Q10 (CoQSol-CF) 102
Coenzyme Q10 belongs to a family of substances called ubiquinones and is a water-insoluble, wax-like substance that is part of the respiratory chain. Since it is a coenzyme, it is necessary to support the action of an enzyme, and it has a similar structure to vitamin K. CoQ10 is found in each of the 50-75 trillion cells throughout the body, except for mature red blood cells. It has a multitude of health benefits at the cellular level, in the cardiovascular system and with the body's metabolism. It serves to revitalize and energize the body's cells and immune system and contributes to increases in stamina and endurance by fueling the body's energy production (ATP) cycle. It is beneficial to the cardiovascular system because it helps to protect the heart, maintain normal blood pressure, and promotes mental alertness and brain activity.
The mechanism of action of supplemental coenzyme Q10 has yet to be clarified and is a matter of much speculation. However, much is known about the biochemistry of CoQ10. Coenzyme Q10 is a two-part compound that is composed of a long, fat-soluble isoprenoid tail that anchors the molecule in the inner membrane of the mitochondria, and quinine that is capable of accepting and transferring electrons through a portion of the respiratory chain. The "Q" stands for quinine and the "10" stands for the number of isoprenoid units in the tail portion of the molecule. It is synthesized in the cells, and is involved in electron transport and energy production in mitochondria. In the cellular system, it functions to generate energy from oxygen, in the form of ATP, for bodily processes. It serves as a free radical scavenger and an antioxidant. The antioxidant activity in the mitochondria and cell membranes promotes the s">Vitamin E (d-alpha-Tocopherol): 200 IU The most valuable sources of dietary vitamin E include vegetable oils, margarine, nuts, seeds, avocados and wheat germ. Safflower oil contains large amounts of vitamin E (about two thirds of the RDA in ¼ cup) and there are trace amounts in corn oil and soybean oil. Vitamin E is actually a family of related compounds called tocopherols and tocotrienols. Vitamin E is available in a natural or synthetic form. In most cases, the natural and synthetic forms are identical except the natural form of vitamin E is better absorbed and retained in the body. The natural form of alpha-tocopherol is known as "d-alpha tocopherol." The synthetic "dl-" form is the most common form found in dietary supplements. For those individuals watching their dietary fat consumption, which is relatively common in the world of dieting, vitamin E intake is likely to be low, due to a reduced intake of foods with high fat content. The main health benefit of supplemental vitamin E comes from its immune-boosting antioxidant activity. It also promotes the normal healing of wounds and is known to promote cardiovascular health. Vitamin E is one of the most powerful fat-soluble antioxidants in the body. Vitamin E protects cell membranes from free radical damage.

Reviews
---
Displaying reviews 1 - 4 of 4
Amazing product combination
The revitalize bundle is perfect for anyone wanting to know what products they need to take when they are always feeling tired, sluggish, no energy! We always need a combination of nutrients to support our bodies, and this Revitalize Bundle is just perfect.
Review
I love the Revitalize Bundle! It's great for improving energy!
Revitalize Bundle
Love this Revitalize Bundle to give me the healthy energy start for 6 AM Barre class before I move into a busy day of consulting or my favorite "Nonna" day with my 2 year old granddaughter. Drinking the Isotonix supplements is easy to take with maximum delivery!! You know it supports healthy energetic aging when you're son comments "You're the only adult in our family that could spend the day with all four grandchildren and still have energy at the end of the day!"
Dr Nancy loves the Revitalize Bundle
The Revitalize Bundle is a GREAT combination of products to support energy, vitality, focus and attention. When you provide support at the CELLULAR level you have the energy you need to make the most of each day and another benefit with this bundle is you can avoid food cravings. Love it!!
One or more of the reviews shown may have been posted by a nutraMetrix or SHOP Consultant (An independent distributor of nutraMetrix and Market America products) or a nutraMetrix HP (A health professional who is an independent distributor of nutraMetrix and Market America products).